Wednesday - July 05, 2006
By
.(JavaScript must be enabled to view this email address)

Movies Showtimes
Share

The Fast And The Furious: Tokyo Drift
Movie Review with David Shimokawa
Co-owner of Drift Session
As Told To Melissa Moniz
Where and with whom did you see the movie?
I went to go watch it with my girlfriend.We saw it at Ward Theatres.
Overall what did you think of the movie?
Overall I liked the movie. I liked it because it focused on drifting. It had all the entertaining elements, like action, some humor, special effects and even a small romantic story. So it was overall entertaining.
How realistic do you think the special effects and the stunts were?
It seemed pretty realistic to me.
There were some parts where the driving looked like it was speeded up. But for the most part the driving sequences were pretty cool.The special effects were pretty good,and the action was done pretty well.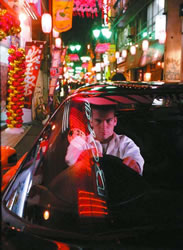 Do you think the movie had a positive or negative outlook on the sport of drifting?
I'd say it's positive for the sport as a whole because it brings drifting to the forefront.Any large Hollywood release is very mainstream, and this is a big mainstream studio release. People who've never seen what drifting is before can go watch this movie and be exposed to it.
Could you briefly summarize what drifting is?
You know, the best definition I heard for it was in the Disney movie Cars. One of the cars said that sometimes you are turning so far left that you end up turning right. So drifting is basically stylized driving; it's not necessarily racing.It's sort of like what figure skating is as compared to speed skating. In drifting you are trying to demonstrate skill, however, speed does play a factor.
How would you rate the acting?
I thought the acting was pretty bad for the most part, a lot of cheesy lines. I only knew who Sonny Chiba was and Bow Wow, I didn't know who anyone else was. The acting seemed to be a little on the weak side, but if you're going to watch a movie on drifting you're not really expecting great acting.
Did you have a favorite scene?
I liked the part when they were all running away from the drifting guy. I guess he came to the garage where they all hang out, and then everyone jumped in their cars to run away and they were, like, racing through traffic to get away. I thought it was a really neat sequence because there was a five-lane freeway and there was slow traffic on the freeway and the drifters were manji drifting. It's a side-to-side swaying drift on a straightaway. It's where you zig-zag back and forth. But anyway, they were doing this between moving vehicles on the road and that's so hard to coordinate. I mean, to do it on a road with stationary cars is already very risky,but to do it on a road with moving vehicles - that's hard.
Do you think scenes from the movie, such as the one you just mentioned, promote dangerous situations on the road?
I don't think so. I think people don't give kids as much credit as they deserve. Everyone thinks that kids are going to watch this movie and then go buy drift cars and go drive off a mountain. Teenagers aren't morons. And plus, only a few of them have a limited supply of money to do really crazy stuff.But even so,I don't think it's a result of a movie. It's more poor judgement rather than movies.
In a four star rating, with four being the highest, what would you rate it?
I would give it a 1/2 . I'd probably say it's more of a movie, but because it features drifting and I like drifting, it gets a slightly higher rating.
What's your favorite movie snack?
I like popcorn at Ward Theatres. Me and my girlfriend pick our movie theater based on the popcorn.We even picked up the cashiers who give the most butter on them.
OK, so just how often do you go to the movies?
At least once a week.We pretty much go to every movie that comes out.Yeah, that's our recreation.
What's new?
As far as Drift Session goes since the track closed we have no race track. It closed at the end of March. I just went out there last weekend the first time in the past two months and they demolished everything out there. Since that closed we shifted a lot of our effort into our web site, driftsession.com, and so we are still putting out drifting-,car- and racing-related material on the web site. The web site is doing really well.And as for my business partner,Tom Bryant,he's still fixing and building sports cars and performance cars.
Next week: a new movie, a new celebrity
Most Recent Comment(s):