Wednesday - December 29, 2010
By
.(JavaScript must be enabled to view this email address)

Movies Showtimes
Share

Bruce Kawano
Commissioner,
Hawaii State Boxing Commission
Where and with whom did you see the movie?
I saw the movie at Ward Theaters with my high school buddy Jeff Teruya, who is a huge boxing fan and has helped me coach in his free time over the years.
Overall, what did you think?
As a boxing fan, I thought it was great. I remember watching Micky Ward's bouts. The best bouts I saw were between him and Arturo Gatti.
I remember it well because Ward would hit Gatti,he would go down,Gatti would hit Ward, he would go down. They would take turns just going back and forth.
On a scale of one to four stars, how would you rate the film?
I would give the movie ★★★1/2. I thought it was an excellent film and I would definitely watch it again.
Was the message of the movie clear?
It was definitely clear. I liked the story a lot because I was a Micky Ward fan before I saw the movie. Ward is one tough guy. He never really was the world champion. In the movie and in reality he won the title called the World Boxing Union (WBU) title, but that is not a real world championship. The real world championships are the World Boxing Commission, World Boxing Association, International Boxing Federation and World Boxing Organization. In the old days there was only really one true world championship, now there are these four different ones.You also have all these little organizations too.The WBU isn't a true world championship, but regardless if he was a world champion or not, Micky put on some great fights, which people loved. His trilogy with Arturo Gatti made him famous.It is a shame Gatti died before this movie was released.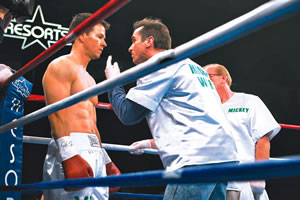 As a boxing trainer, do you think the movie was accurate?
It seemed like Mark Wahlberg had been training for about a year for this role; you can just kind of tell. I thought the training and fighting were pretty good, though. Micky Ward had a tough life. He probably could have been world champion if it wasn't for his family - just too many distractions. Every elite athlete has a story, and some stories are worse then others, but a lot of them have bad distractions, whether it's managers, promoters, family, girlfriends. If he had the right management and the right people behind him, Ward could've been a world champ,but he always wanted to be loyal to his brother.
To whom would you recommend this movie?
I think everybody would enjoy it, even non-boxing fans because of the family story that is behind it. My sister, who is not a boxing fan, called me out of the blue to tell me she watched the movie and that I had to go see it.
What about the acting? Did anyone stand out to you?
The brother (Christian Bale), you could tell he wasn't really a boxer but just learned some basic skills over six months to a year.
On a different note, what's new with you?
I am still working with our young athletes. I am on the Associated Boxing Commission and a few other national and international boxing commissions also. I am president and help run the Amateur Boxing in Hawaii organization too. I work nights and coach during the day. I coach the USA Women's boxing team.At my personal gym I coach about 20 boxers who range from intermediate school ages to adults.
Most Recent Comment(s):