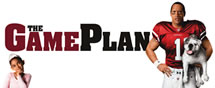 Wednesday - October 10, 2007
By Kerry Miller

Movies Showtimes
Share

Wendell Say
Aiea High School
Football Coach
As Told To Kerry Miller
Where and with whom did you see the movie?
I went to Kapolei with my wife and my two daughters.
Overall, what did you think of the movie?
Oh, I loved it.A good family show, very enjoyable. (My family) they really enjoyed it. It has meaning to it, a good football (movie) to watch.
Was the movie predictable?
The football parts are all predictable. The show itself, the part about the daughter and what happened, the storyline was good, but football scenes are pretty much predictable.
What was your favorite scene?
I guess seeing how he bonded with the daughter (Madison Pettis). The part when they were playing with the water gun in the locker room, here's this big tough guy and she melted all those hearts. My daughter was just saying (she liked) when they were playing in the tree. He's such a big guy and he goes into his daughter's ballet class, everybody likes that.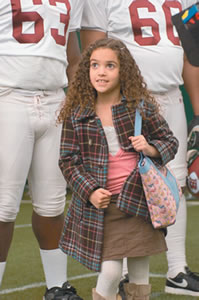 Who was your favorite character?
The little girl. She was really sharp and one of those brighter girls that really steals the show.
Have you seen any of Dwayne "The Rock" Johnson's other movies? How does this compare? How was his acting?
The Rock did a good job. He's so big, it's hard to look at him as a quarterback, but as far as the show itself he did a real good job of acting. It's one of his better ones because it has the soft side to it, not just the macho part. It's a movie about a guy who is self-centered, and the girl he has no connection with walks into his life and softens him up. In the end he says that she was the best thing that ever happened to him. He realized that all the glory wasn't important.For our players to see it, it would be good.
How would you rate the acting overall?
It was all right. The little girl was good. Overall it was decent.
Would you recommend this film for others to see?
Oh, yeah. I think it would be a good film for families to see, it has a good meaning to it. My son plays football with me. It would have been good for him to see.
This is a football movie, so how much actual football playing is in there, and is it realistic?
Not too much, they had a lot of game sequences.You could tell it wasn't The Rock.
In a four star rating, with four being the highest, what would you rate it?
I watch a lot of movies. I'd give it at least , my daughter says . It was made by Disney, so you know it's going to be good for families. In one of the scenes they were showing pictures of The Rock on the wall, and they showed (a picture of) him playing for McKinley. He played for McKinley his sophomore year (in high school).
What's your favorite movie snack?
My kids, they love popcorn and mochi crunch. I do too. Also, Skittles on the side.
Favorite actor/actress?
I enjoy them all.
What's new with your team?
Right now it's football season and we're busy. We're almost done, we've got one more regular season, a bye and then going to playoffs.We try to tell our kids we have the second season. It's always our goal to get to that second season.
Next week: a new movie, a new celebrity
Most Recent Comment(s):