Wednesday - January 02, 2008
By Kerry Miller

Movies Showtimes
Share
Where and with whom did you see the movie?
I saw it in Ward Theaters with my 9-year -old son Arjun - even though he was grumbling because he wanted to see the Chipmunk movie.
Overall, what did you think?
It was great and, you know, I can't believe I'm saying it, but I think everyone should see it. It brought tears to my eyes several times - except for my Korean dramas, I barely cry. First of all, it relates to my profession, communications professor.The reason it's significant is I was impressed by everyone's acting and it deals with two significant issues: 1) public speaking. When they did research among Americans, public speaking was the No. 1 fear, death was No. 2.That means some people would rather die than give a speech. And 2) Racial discrimination.When I look through some other reviews, I don't know why they focus so much on the debate team - racial issues were not really touched upon. I took place in 1935 Texas. Racial discrimination is still not a thing of the past, it is happening everywhere. It (the movie) hit home. The movie spoke the truth.
As a speech professor, did you see any similarities between your teachings and what the students did in the movie?
Teaching is basically like speech, you get used to it. The movie hit home because it's what people can do against all odds. When I started on my Ph.D. in 1987 at the time I could not speak (English) well. I had to teach communication students. I remember writing all the lecture notes and memorizing. What I loved from the movie, even before I saw the movie, is it's more about whether you can say what you mean on a topic that you are passionate about. I think that's why I'm still here (teaching). The movie is all about how they get back to their hearts to speak about it.That was nice.
How much was the speaking aspect/debate team emphasized in the movie? Was it more about the racial discrimination issues?
I think it's both. It's such an amazing combination. Great acting it's like a great speech. This movie is just a wonderful combination of those two elements. I was more moved about peoples' experiences, the fear, terriizing.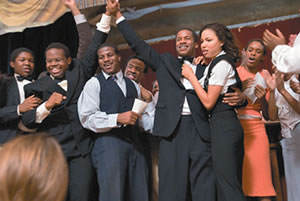 Was there anything you would have changed or taken out of the movie?
Believe it or not, it was amazing and I really appreciate what a great art acting is. They basically had what you need - it makes a great movie.
This is a true story. Did it seem accurate?
That's what I'm not actually quite sure about.The debate team name was changed. But it really hit home.
On a scale of one to four stars, what would you rate this movie?
****.
To whom would you recommend this movie?
Everyone should see it. I was somewhat queasy because I wasn't sure my son would take it OK.
Actually, he liked it. He said the title was boring, but he got the message. I was happy.
Favorite movie snack?
I just don't want to feel unhealthy when I walk out of the movie.
What's new?
I just finished a book called Changing Korea. In Korea there's been such recent changes in the whole culture - values, communication styles have changed, now they are struggling with new individualistic values that they are adopting, it's everyday life.
The most exciting project is the two books (I just wrote) relating to culture shocking experiences that I have experienced over the years. I hope I can increase people's cultural IQ.
Next week: a new movie, a new celebrity
Most Recent Comment(s):