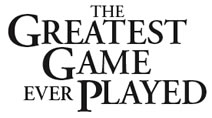 Wednesday - October 05, 2005

Movies Showtimes
Share

The Greatest Game Ever Played
Movie Review with Rob Nelson
PGA Professional, Campus Director of the San Diego Golf Academy
As Told To Katie Young
Where and with whom did you see the movie?
I saw it at Dole Cannery Theatres, and I took our student coordinator, Rachel Thompson,and one of the students, Natasha Ashton.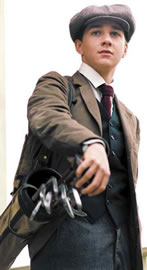 Overall what did you think?
I thought it was a great movie.
I thought about how I can tell you about it without wrecking the end. Well,first of all,I teach history of golf at the academy, and we study the main character in this movie, Francis Ouimet.
The actor really looks like him. The very first thing the screen says it's a true story. For those of us who have studied the history,I already knew the ending. But to now know all the details of his mother and father and also some interesting things about Harry Vardon,who is also a principal character in the movie, was fascinating. It's not just a movie for golfers, although every golfer should see it. It's probably my new favorite golf movie,taking Caddyshack off the No. 1 spot.
What was your favorite scene?
My favorite scene is the end, but I don't want to give it away. Another thing is that this movie is shot from the golfer's perspective - they put you into the mind's eye of the golfer - what they're seeing and hearing is portrayed on the screen which is totally unique.You can also see the demons that can come from this focus, or lack thereof.
Did you have a favorite character?
Eddie the caddy was my favorite character. He's a fifth-grader cad-dying in the U.S. Open in 1913. He's just so loveable and cute, and doesn't take any crap from anyone,and knows exactly what to say to Francis to calm him down.
How would you rate the acting?
I would say it's really superior acting.Not only was Francis' character believable, but he looks like him, too.
How were the special effects?
It's really incredible when the golf ball gets hit, they follow the flight of the ball like they're right behind it.That and that whole golfer's focal point was really interesting to see.
Did the movie have a meaning?
There's a message about following your dreams.
What was the best/worst aspect about the movie?
The worst aspect of the film is the true life portrayal and struggles of golf professionals in the early days.They were considered second-class citizens, and the uppity nature of the golfers we had at the turn of the century was horrible. It was an exclusive sport for the well-to-do, and they were very honest in not allowing the have-nots to play their game. Now we're thankful it's a game for everyone.
Maybe the best aspect would be that it's an honest movie that everyone can see.
Is it a movie that you would see again?
When this comes out on DVD, I'm going to get it for the school and it will be part of the history class.
To whom would you recommend the film?
I'd recommend it to anyone who loves the game of golf.They need to see it. But also it's a great movie for younger people.
On a four star rating,with four being the highest what would you rate the movie?
Three & 1/2.
What's your favorite movie snack?
A hot dog and popcorn.
What's your favorite movie?
Probably Star Wars ... I suppose at the time it came out it was this state-of-theart movie, and I'm into science and it just stuck with me. I have it on DVD so I can watch it anytime.
How often do you go to the movies?
Probably four times a year. I don't get to go very much.
Who's your favorite movie buddy?
My wife, Sweetie, and my kids Jordan, 12, and Braeden, 10.
What genre of movies do you like?
I like action. I guess I like the rush.
Who's your favorite actor/actress?
I like Angelina Jolie because she's athletic and beautiful.
What's new?
The San Diego Golf Academy opened up in January at Koolau, so after 20 years in managing golf operations and facilities,I'm now teaching that to the next generation of professionals.It's very exciting and rewarding.We continue to grow.We started with 12 students,and now we just started a new semester where we took on an additional 15.Next enrollment in January,I'm expecting another 20 or 25 students.The program is 16 months and you get an associate's degree in applied business.We prepare our graduates for careers in the golf business.
Most Recent Comment(s):