Wednesday - June 08, 2011
By
.(JavaScript must be enabled to view this email address)

Movies Showtimes
Share

Diana Su
Public Relations Manager at Starwood Hotels & Resorts
Where did you see the movie and with whom?
I saw The Hangover Part II at Ward Theatres with my friend, MidWeek's Alana Folen.
Overall, what did you think?
Overall, I think the movie's content is definitely as crazy as the first. However, the first movie provided the audience with a series of events that were portrayed in humorous context, which had never been done in that style before. Although the second movie equally matched the insanely comical series of misfortune, it just didn't have the same impact as the first movie did. The reason is the style of comedy has been done before so it's not as fresh or unique. That's not to say the one-liners Zach Galifianakis dropped and Mr. Chow's infamous character weren't incredibly funny.
On a scale of one to four stars, how would you rate this film?
I would rate the movie with ★★1/2.
Was the message/theme of the film clear?
The overall message of The Hangover Part II doesn't take a neurophysicist to figure out: a bachelor party gone wrong, once again.
Did you identify with any of the characters?
Galifianakis! Just kidding. I absolutely identified with the idea in the movie how the characters "blacked out" and had a crazy drunken night.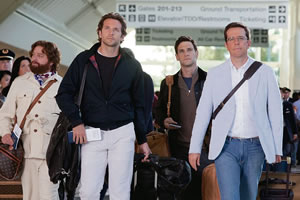 Did it remind you of any other work in film?
I definitely think this movie is original in itself. However, if I were to compare The Hangover Part II to another film, I would say Animal House.
To whom would you recommend this movie?
I'd recommend this movie to anyone who enjoyed the first Hangover. Definitely not a family outing-type of movie though.
Would you buy this movie when it comes out on DVD?
If it was on sale.
On a different note, what's new with you?
Mangoes at the Moana is starting on Friday, July 1. It's a monthlong event at the Moana Surfrider, featuring mango-inspired festivities. The month's calendar of events for Mangoes at the Moana include a professional star-studded lineup of executive chefs participating in a friendly cooking competition using mangoes as the main ingredient, mango and wine tasting, a mango recipe contest, health and wellness of mangoes seminar, edible mango scrubs, Mango Farming 101 to advanced, a food fair and much more.
Most Recent Comment(s):