Wednesday - June 25, 2008

Movies Showtimes
Share

Mike Dupre & Sophia Nelson
Stars of Manoa Valley
Theatre's Rocky Horror Show
As Told To Kerry Miller
Where did you see the movie?
Mike: Ward Theatres.
Overall, what did you think?
Mike: It was entertaining. I thought it was a decent movie,it wasn't spectacular.I enjoyed myself the whole way through.
Sophia: I thought it was good 'cuz it brought awareness to our environment and the effects that humans have on it. It lacked a lot of direction with the plot.
What about the acting, did anyone stand out?
Mike: I'm not sure if it was a stylistic choice to have people be more B-movie-like, especially with the town's people,. It was a style to have them be realistically bad. It wasn't so bad that it took away, it was a style.
Sophia: You know I thought the wife of Mark Wahlberg (Zooey Deschanel) spoke her lines well, she acted it out pretty good.
Compared to other M. Night Shyamalan movies, how does this one fare?
Mike: If I was going to compare, I would rank it below Sixth Sense and probably above all the other ones.
Sophia: I think it compares to The Village, where you're kind of guessing what's going on the whole time, they all have that similarity.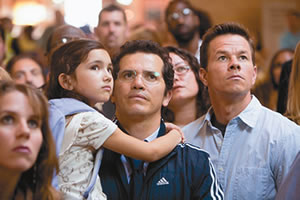 How scary was this one?
Mike: I wasn't sure what to expect com- ing into it.Most of his movies have been pretty scary. It had a few jumpy moments. I didn't feel scared too much through the whole thing. It gave you more of a sense of uneasiness,you feel more uncomfortable though the whole thing rather than scared.
Sophia: It wasn't scary,but there were points that it was gory and disturbing.
On a scale of 1-4 stars, what would you rate this movie?
Mike: I'd give it ★★1/2.
Sophia: Probably ★★.
Who would you recommend this movie to?
Mike: If you're a fan of Alfred Hitchcock-type suspense where it's not about being scared by gore and monsters, then this is more of the movie for you.
Sophia: I would recommend this movie to science fiction fans.
Favorite movie snack?
Mike: I usually get Junior Mints or Sour Patch Kids
Sophia: Raisinets.
What's your favorite type of movie?
Mike: I usually go and watch comedies,but James Bond movies are the only ones I go see in the theater.
Sophia: I am a film fanatic. I love Quentin Tarantino movies and science fiction. Fifth Element is my favorite.
What's new?
Mike: Today we open (Rocky Horror Show at Manoa Valley Theatre; Dupre plays the role of Brad).They just told us that they were going to extend it for two more weeks, which is really exciting. I am very excited, I tell everyone so many great things about it, it's really one of the greatest projects I've been a part of. I was just in Plaid Tidings over Christmas, and before that I did a few shows here and there. I'm in my senior year now so it's less pressure. I'm at UH for musical theater.
Sophia: Yes,I'm really excited! It's all coming together with dress rehearsals (Nelson plays the role of Janet). I'm a writer, singer/song-writer,and I'm putting together an album that should be done in a couple months.
Most Recent Comment(s):