Wednesday - January 20, 2010
By
.(JavaScript must be enabled to view this email address)

Movies Showtimes
Share

Dr. David Brown
Dentist, Magician: "The Great Davidio"
Where and with whom did you see the film?
I saw the movie at the Ward Theaters with my wife Karin and our dear friend Donna Sullivan.
Overall, what did you think?
We thought the movie was very entertaining with a lot to offer.It had a "magical theme," good acting and some interesting filming and special effects.
So on a scale of one to four stars, what would you rate this movie?
I would definitely give it ★★★ as it was such a fun adventure and had,I thought,great acting. I know that Heath Ledger died during the filming,and so part of the film had to make up for that fact. I thought that the addition of Johnny Depp,Jude Law and Colin Farrell playing the parts of Heath while "behind" the mirror, came out just fine.
How was the acting? Did anyone stand out?
The acting was great,although I do not consider myself much of a judge of that.I did especially enjoy seeing Johnny Depp, and appreciated what the three "fill-ins"for Heath Ledger had to do.Also,although Christopher Plummer plays a bit of a drunk and a pretty crusty character,his acting was superb,and the movie in many ways revolved around him.He got it right at the end.
Was the storyline easy to follow?
The storyline at times could be difficult to follow.However,since it was indicative of dreams and imaginations,to some extent it made sense that it didn't make sense.I am sure parts that made sense to me didn't make sense to others,and vice-versa.There were many areas that were hard to figure out but,given the idea behind the movie,it seemed OK not to be able to follow it completely.I usually don't like to see movies a second time, but I think I would see some different things if I saw this a second time.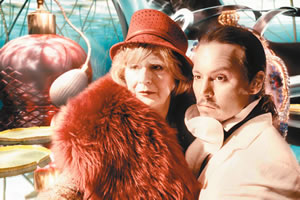 How about the special effects?
The special effects were not out of the ordinary considering what is out there today.However, they were well-done and seemed to fit well with the general theme of the movie.
Without giving away the ending, what was one of your favorite scenes and why?
My favorite scenes involved the different parts when someone would go through the looking glass.Since everyone has a different imagination, each sequence was quite different and it made you think about what your own vision would be.
Would you buy this movie on DVD?
I think I would see different things with additional viewings of this movie, so I could see having this on DVD.
Was it worth the ticket price?
We had a great night out,so it was definitely worth the ticket price.After some movies there is not much to talk about, but this one was more interesting to discuss.
Did it remind you of any other work of film?
The movie did remind us a bit of Beetlejuice, one of my wife's favorites, due to the alternative realities. Good fun!
To whom would you recommend this movie?
I would recommend this movie to any adult who likes to be challenged a bit. It is about imagination, and you need to have one to get anything out of the movie and to appreciate the fact that others have different imaginations that may not make much sense to you. Additionally, the movie is somewhat dark, so it might not appeal to everyone. I would not recommend it for kids,as it can be a bit scary and confusing.
On a different note, what's new with you?
I have been enjoying performing at the magic theater that I have set up next to my dental office in Temple Valley Shopping Center (Ko'olau Center).We do a monthly show on the third Friday of the month with two magicians. It's a great family show.Call 239-6711 for ticket information.
Most Recent Comment(s):