Wednesday - September 30, 2009
By
.(JavaScript must be enabled to view this email address)

Movies Showtimes
Share

Gina Saldania
Model/Actress, The Informant!
Where and with whom did you see the movie?
I saw it at Kahala Theater with my daughter Clea Saldania-Rountree and her boyfriend Yohan Marchand. Of course we had to see it… after all, we were in it (as extras)!
Overall, what did you think?
I thought it was on the boring side.When we were filming the movie I thought it'd be really intense and suspenseful like Mission Impossible or something. But instead I found that they made it into a comedy.That surprised me. My daughter absolutely loves comedies,but she didn't laugh at all.
Was the story's plot clear?
You really have to listen to understand the story, and my daughter and her boyfriend just stayed confused.
It's a very confusing story and you really have to be on your toes for it.You know that Matt Damon's character is a whistle-blower, but the storyline gets confusing when he starts fabricating things and lying.You can't tell what is the truth and what isn't, and by the end of the movie you're in shock like, "Oh my gosh, he's not really that good of a guy after all."
How was the soundtrack? Did it contribute significantly to the movie?
In truth, the soundtrack was really the only thing that made it funny.The music they put to each character really added humor, like how every time Damon came into the office there was this kind of slapstick-type funny music that followed him. Other than that it just fell flat.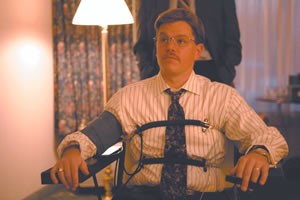 What about the acting? Did anyone stand out?
Matt Damon carried the movie; he did good. For playing this pudgy nerd trying to be a 007, he really did well.
On a scale of 1-4 stars, what would you rate this movie?
Oh, gee. I would give it, like, a ★1/2. Like I said, it just wasn't very funny for it to be labeled a comedy, and it was just kind of boring. I laughed more at the lady laughing behind me than at the movie. Some people actually fell asleep and were snoring, and that was comical too.
So I'm guessing the movie wasn't worth the ticket price?
It isn't worth it at all. This film could've just been on cable or Lifetime - not on the big screen.
Was the movie as good as the previews made it out to be?
(Laughs) You know, I was already looking at the trailers thinking they looked boring. I thought, "Oh, what did we get into here?"
Without giving away the ending, what was one of your favorite scenes and why?
See, that scene didn't even make it into the movie! There was supposed to be this big scene where Damon is supposed to have an interview with the Japanese at this pool,and he actually showed some skin and ended up jumping in, showcasing all the weight he'd gained for the role. It was edited out, but I thought they should have kept that because it showed his chubbiness. They ended up keeping him in big suits throughout the whole movie instead and I thought,"Well,he gained all that weight for no reason." I mean, c'mon, they could've just stuffed the suit!
So what's new with you?
Clea and I are hoping LOST will call us for the new season, and I was just recently a stand-in for a local movie called One Kine Day. Clea also has some work with Hawaii Bride & Groom coming up, but truly we're just holding out for LOST.
Most Recent Comment(s):