Wednesday - October 14, 2009

Movies Showtimes
Share

Jerry Blue
President, Element 8 Marketing & Advertising
Where and with whom did you see the movie?
I saw it at the Ward 16 at Ward Center with my wife, Renee.
Overall, what did you think?
I thought it was OK. I don't know (laughs), it was just all right.
What about the acting? Did anyone stand out?
I thought the main character (Ricky Gervais) was interesting. Initially I kind of didn't like him as a main character. It was funny: At the beginning I thought,"Well, I don't think he's ideal for this main role," and then toward the middle I thought, "Well, maybe he is. I kind of like him," and I warmed up to him.But again at the end I was thinking,"Yeah, I still don't know that he was the right choice (for the role)."
Did the soundtrack contribute significantly to the movie?
I don't think it did. (Laughs) I don't even really remember any of the music, to tell you the truth!
On a scale of one to four stars, what would you rate this movie?
I would give it ★★★. I think most people would find it humorous and funny. But me, I think I pay attention too much and analyze too much. I had to remind myself that this was a comedy instead of digging in and thinking, "Oh, a normal person wouldn't do that."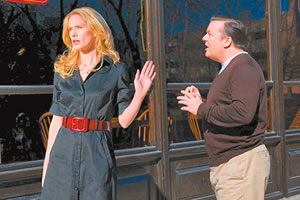 Were there any characters in the film with whom you felt you could identify?
I guess I could identify with the main character (Gervais). I mean, the whole premise of the movie is that here is a town in a world where no one has ever uttered a lie. Ever.And I have this belief that if you lie you're always going to get busted, whether you like it or not, but he tells these fibs and he can't get busted, because no one will question him. I don't know if I could lie and get away with it, but I thought it was pretty funny.
Without giving away too much, what was one of your favorite scenes and why?
I would say that when the religious under-tones came out there was a part where he essentially helped his dying mom by telling her stuff about the afterlife ... that there would be a mansion for her and all kinds of stuff. Then the whole world believes that he knows what happens in the afterlife, and so then he's forced to take this lie to an exponential level and do interviews and everything. He essentially creates the 10 Commandments by making up these 10 rules. It was hilarious.
To whom would you recommend this movie?
I don't know if younger kids would get it, so an older group, I suppose. I think the 30- to 40-year-old generation would get it more.
Do you think the movie was worth the ticket price?
Um, maybe. I can't say yes or no, because it's just that it wasn't the greatest.
Would you buy the DVD?
Probably not. I'd probably borrow it from someone.
So what's new with you at Element 8?
We're an advertising agency, so we don't really have any events or anything. But we've been working with great clients and starting some new projects with some new clients and they're all wonderful,so business is really booming right now.
Most Recent Comment(s):