Wednesday - June 23, 2010
By
.(JavaScript must be enabled to view this email address)

Movies Showtimes
Share

George Kotaka
Two-time World Karate
Federation World Champion
Where and with whom did you see the movie?
I saw it at Koko Marina 8 with my friend Juli Kakihara.
Overall, what did you think?
Overall, I thought it was a great movie. Basically, it was the same exact story-line as the first The Karate Kid, so you knew what was going to happen next, but it was nice to see fresh faces with such a familiar story. It had great entertainment value as an action movie and at the same time carried a great message.
On a scale of one to four stars, what would you rate The Karate Kid?
I'd give it ★★ 1/2, because I just thought it could've been a little bit more original.
Also, the kid, Dre Parker (Jaden Smith), goes to China and learns kung fu, not karate. So the average person who does-n't know the difference between karate and kung fu doesn't mind the movie's title, but to me, I think they should've changed the name a long time ago to "The Kung Fu Kid." There's a big difference between the two styles.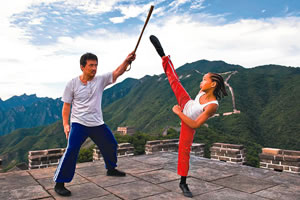 How was the acting? Did anyone shine?
Jaden Smith really sold his character as Dre, and Jackie Chan was great as Mr. Han. They worked well together and fed off of each other's energy.
What stood out the most in the film?
Dre had a hard time initially with the culture shock going to China from Detroit, and he wanted to go home. For me to watch that, you could really see that the kid was hurting, and he really sold that aspect of the film. He was fun and had a lot of spirit throughout the film, too, in learning the art of kung fu.
Was the movie's message/theme clear?
The message is a great one for all those who take martial arts: In life you're going to hit roadblocks or get knocked down. But you have two options: Stay down, or get back up and move forward. It's up to you. If you have goals in life, this is a great framework to build upon.
How did the movie stack up to its predecessor?
I don't think it was original, but as I said, I'm not sure that the producer wanted to stray from the story in the first place. In the first one, they referenced more of the history of Mr. Miyagi, whereas there wasn't so much in this one. I'd say the first The Karate Kid is best, just because it's the original. Can't beat that.
Did the soundtrack contribute significantly to the film?
There were some parts of the sound-track that you could tell really brought something extra to the scenes, but it wasn't outstanding or anything. It helped with the action scenes and the parts that were a little more dramatic, though.
To whom would you recommend this movie?
I'd recommend it to all kids and families as well, because it has a great message. Martial arts in general is a great way of exercise, self-discipline and creates a very strong framework when you're little to build on as an adult, and I think this film really harnesses that.
On a different note, what's new with you?
We have a summer special going on at all 11 of our International Karate Federation sites on the island right now. It's $99 per student, and you get two months of karate lessons and a free uniform (ages 5-plus). If your kids are looking to get into martial arts, we have some great programs for them, as well as for adults and families in general. They are very challenging, but fun at the same time. For more information, call 221-4928 or visit www.ikfhawaii.com.
Most Recent Comment(s):