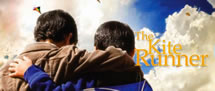 Wednesday - December 12, 2007

Movies Showtimes
Share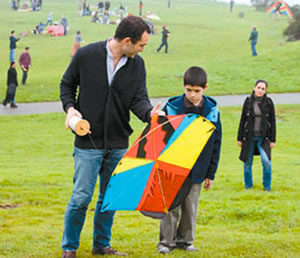 Where and with whom did you see the movie?
I saw the movie with my friend Cynthia Gilligan. We went to Dole.
Overall, what did you think?
I thought it was a very good film. It was a film that came from a very good book, it was faithful to the book. It compressed a lot of info that the book had, it was really tight and self-contained. It was entertaining and engaging. The film itself was divided into three parts - the book expands on those three parts a little more. It was kind of pre-Soviet invasion in Afghanistan, then it moves to the Soviets coming in and then it skips and the boy grows up. He's living in California, and later goes back to Afghanistan.
Part of the story is about two friends growing apart after an event. Does a kite event have anything to do with that?
It revolves around one guy, a boy named Amir and his growth as an adult.
He has a friend, Hassan, the child of his family's servant.Their friendship forms from the closeness of their families, the father and son (Hassan and his father) are the servants for Amir's family. It's significant in the sense that there's an ethnic hierarchy, Amir is Pashtun and Hassan is Hazara. It's like a caste society, ethnic groups are seen in different ways.They're (Amir and Hassan) very much equals (to each other), and then they fly kites. Part of the joy of their friendship is flying kites. One of the sports kids engage in in Afghanistan is kite flying, but it's a competition.You're trying to fly a kite around and cut kites of people around you. It's a two-person team. Once the kite is cut, you have someone run to claim that kite as your own. Hassan is known as the best kite runner in Kabul. Once the kite is cut people don't know where it lands. Hassan is able be where the kite lands before it lands. He has a special gift.
How does their relationship change?
Their friendship falls apart after this one event, because Hassan was faithful to Amir. There were older bullies who were racist against Hazara. When Hassan runs to get a kite (in a particular scene) a bully beats him. Amir witnesses this and does nothing, and he feels guilty. Then the Soviets come and Amir and his father leave Kabul. (In California) Amir graduates from college, finds a wife. They make their life in America; it's not easy. Amir gets a call from one of his father's good friends in Afghanistan, he tells Amir that he has to go to Pakistan to talk about his friend Hassan.
In what time period is this set, and is the current war depicted in the movie?
It opens in 2000 in San Francisco with the phone call, then as the caller says "it has to do with your friend," it flashes back to the 1970s.When Amir goes to Afghanistan. It's 2000, pre Sept. 11. It's a Taliban-occupied Afghanistan. It's a real tense time, you see lots of things that Taliban has been known to do.
How was the acting? Did anyone really stand out?
The children are excellent actors in this film.They are cast locally (the movie was filmed in Turkey and Morocco) by the director.They really held their own, they're terrific.
On a scale of one to four stars, with four being the highest, what would you rate this film?
***.
Favorite movie snack?
Popcorn and mochi crunch, and water.
What's new?
The UH Academy for Creative Media is doing really great.We had a student film that did well at the International Film Festival, winning a Time Warner Digital Cable Award. We have high enrollment and are making great films. I'm trying to help my brother in-law, Barack Obama, to win the presidential election. My wife, his younger sister, is in Iowa (now). I'll be there shortly, bringing aloha to Iowa.
Next week: a new movie, a new celebrity
Most Recent Comment(s):