Wednesday - January 27, 2010
By
.(JavaScript must be enabled to view this email address)

Movies Showtimes
Share

Nohelani Cypriano
Na Hoku Hanohano
Award-Winning Recording Artist
Where and with whom did you see the movie?
I saw it at Koko Marina with my publicist Mona Wood.
Overall, what did you think?
I thought the movie was very good and the cinematography was great - some of the visuals were very captivating, like the in-between fantasy land that the main character (Saoirse Ronan) is caught in. I know the main theme of the movie was about a young girl who was murdered and remained in a place between earth and the other side, and a family's grief over their loss. But for me, I love movies that show scenes of the afterlife and interpretations of it.
On a scale of one to four stars, what would you rate this film and why?
I would rate it ★★★, only because at times the storyline didn't flow well with the main character's limbo state and the real-life situation with her family, the murderer and the police investigation. Because the movie stresses the relationship between father and daughter, I would have liked to have seen more connection and sensitivity between the girl's spirit and her dad in some scenes (which somehow lacked power and deep emotions for me) that could have evoked more feelings for the viewer, rather than little glimpses of scenes.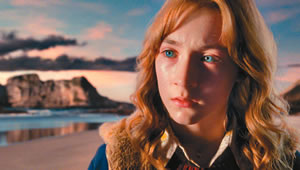 Did the movie's soundtrack contribute significantly to the film?
The soundtrack played its role, and I especially noticed its impact during the suspenseful moments of the movie.
Was the storyline easy to follow or was it confusing at times?
The storyline was pretty easy to follow. Some of the more confusing scenes were the ones where the murdered girl was in limbo. Other than that, you could pretty much follow the story.
What kind of impact did this film have on you personally?
I think that personally it further validated my feelings that love bonds do continue, even after we pass on.The connection between parent and child is especially close to my heart since losing my mother to ovarian cancer, and ever since her passing I have received many signs from her, mostly in the form of a butterfly. That's why, in one scene of the movie, it was so personal for me because it showed the girl in a beautiful scene with another soul that passed on with butterflies all around them. I definitely feel that in life, my mother and I were best friends - our love was unconditional - and in passing, my mother and I are even closer than ever. I feel her all around me; she's never far away.
To whom would you recommend this movie?
I would recommend it to all those who enjoy movies that deal with the afterlife. Though its main theme is not the afterlife, it gives you enough to keep you interested and engaged.
On a brighter note, what's new with you?
I have released a new CD, called Pulelehua, My Precious Butterfly, that is dedicated in memory of my mother, Leina'ala Simerson, a longtime and beloved Hawaiian entertainer. I was able to record her for another project prior to her passing, so there are even a few songs that she sings on this CD.The title track Pulelehua is a song I wrote about her many butterfly signs to me since her passing 10 years ago. All of the songs on the CD are connected to my mother - from the great loss that I felt to the unconditional love that she continues to send me to this day. I also perform at Sheraton's Edge on Sundays from 6:30 to 8:30 p.m., and at the Hale Koa Hotel's Banyan Tree showroom on Wednesdays from 6:45 to 8:30 p.m.
Most Recent Comment(s):