Wednesday - September 21, 2005

Movies Showtimes
Share

The Man
Movie Review with Damian Balinowski
KSSK News Director
As Told To Terri Hefner
Where and with whom did you see the movie?
I saw it at the Pearl Highlands Cinemas, and unfortunately I saw it by myself because my wife was ill. She's better now.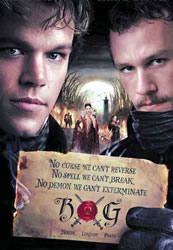 Overall what did you think?
Well, in the beginning I thought, uh oh, this is another one of those cliche movies,the African-American police officer meets the Caucasian guy, and I was expecting all the cliches. But actually I was quite pleasantly surprised.It was a nice, funny little comedy.
What was your favorite scene?
I enjoyed the character played by Samuel L. Jackson. I enjoyed his little tactics in trying to get information out of one of the guys there.That was kind of a funny little scene.
So Jackson was your favorite character in the movie?
If I had to choose, yes.Although as an actor, I do like Eugene Levy's past performances quite a bit more,but for this movie Samuel L.Jackson's character was actually more likeable.
You think they both did a good job then.
Oh, yes, most definitely.
Did the movie have a meaning, or a message?
Not really,it was more of a case of a guy pretty much being in the wrong place at the wrong time.Eugene Levy's character is a dental equipment salesman and he basically got himself caught into a weapons buy. Samuel L. Jackson's character lost a partner, they were ATF agents, and basically what happened is the ATF agent played by Jackson was trying to arrange a weapons buy with these characters and he got the deal going. And as they were attempting to make the drop they actually made the drop to Eugene Levy's character, the dental salesman. So that's how this guy ended up in a situation where he never meant to be.Basically he had to cooperate with the ATF.
What was the best/worst aspect about the movie?
There wasn't actually a worst aspect,from my point of view.There was a certain amount of violence expected because of the type of movie, so certainly that wasn't a factor.I guess the one good aspect that the movie had is the fact that in some of these movies when you do have these opposite characters,at the end they become best of friends, whereas here that really didn't happen. They did get to appreciate each other in the sense of a relationship,but they didn't really turn out to be best buddies. So the cliches were not there,and I think that's a great aspect which actually made the movie go smoothly. Also the fact is that there was never really any boring part of the movie, so that was good. It kept moving.
Is it a movie that you would see again?
On DVD, yes.
To whom would you recommend the film?
I would recommend it to probably anybody who's looking for a nice, light diversion, which I would classify this movie under.It definitely has some opportunity for you to laugh at the movie. So if you're looking for some laughs,it would be a good movie to see.
How often do you go to the movies?
Not often enough. I've been quite busy over the last little while, so I would say it probably averages out about once a quarter.
There's so many ways to watch movies now.
Yes, I don't even rent DVDs anymore. I end up ordering them from cable.Well,it's the same price as the video store and you don't have to drive up there.
Who's your favorite actor/actress?
I would say that I really like,and I know the last reviewer said the same thing, but I have to agree with Ed Kubo on Harrison Ford. I think he's a great actor. He's done some great stuff.
What's new?
I knew you'd ask that.I don't know! Life basically continues as it has been and everything is going well.
FROM PAGE 47
On a four star rating, with four being the highest, what would you rate the movie?
I would give it .
What's your favorite movie snack?
Popcorn without butter chased down with a Diet Coke.
What genre of movies do you like?
I'm very biased toward science fiction. I really enjoy good sci fi.
What's your all-time favorite film?
I would have to say Star Wars.
Next week: a new movie, a new celebrity
Most Recent Comment(s):