Wednesday - December 14, 2011
By
.(JavaScript must be enabled to view this email address)

Movies Showtimes
Share

Christy Lipps Ah Sing
Owner, Puppet Times with Christy Lipps Ah Sing
Where and with whom did you see the movie?
I took my two grandchildren, Kalena (2) and Elijah (7) and their parents, Kalei (stepdaughter) and Kaleko. We saw it at Koolau Theatres.
I also saw it again with my husband Glenn at Kapolei Theatres after that.
Overall, what did you think?
I loved it. But, of course, I'm not the most unbiased person because of the puppets. The film had a lot of good messages for the kids.
The message that I saw right away was that you should accept and love someone even though they're different, follow your dreams and believe in yourself.
It was just a really good movie for families to see.
On a scale of one to four stars, what would you rate this film?
★★★★
Without giving away the ending, what was one of your favorite scenes?
When Miss Piggy saw Kermit. That was just so cute.
Did any of the talent stand out?
For me, it was just seeing all the puppets, and that's why I wanted to see it again.
I was looking at the puppets, and to think that it all came about with one puppet and a bunch of talented people just amazes me.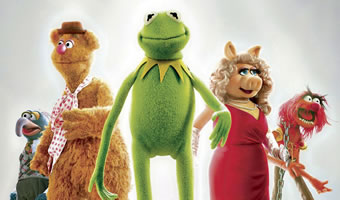 Did the soundtrack contribute significantly to the film?
The music was wonderful, and there's dancing. It was really great.
Elijah said his favorite part was the chicken.
It seemed like that was Kalena's favorite part, too. It was singing and dancing as much as a chicken could.
Would you buy this movie when it comes out on DVD?
If I have to be completely honest, I would buy it for myself.
Did you identify with any of the characters?
I think Walter. He had a dream and it didn't turn out exactly how he wanted, but he didn't give up.
He kept trying, and almost when he had the chance to shine, he couldn't believe enough in himself to do it. But with the help of his brother and Kermit, he was able to believe in himself.
On a different note, what's new with you?
In January, my husband Glenn will be helping me put on a marionette show for the second-grade classes at Kaneohe Elementary School, and then I will be teaching them how to make puppets out of polyfoam.
I'm looking forward to that, and it's keeping me pretty busy. Right now I'm prepping by cutting polyfoam squares and strips for the students to use.
I do have a new muppet-like puppet, and she's a dragon named Georgiegirl. I've only used her two or three times, and it took a lot of courage for me to do something different and new.
I want to use her more often. She's my newest thing I want to get better at.
I always want to improve.
Most Recent Comment(s):