Wednesday - February 01, 2006

Movies Showtimes
Share

The New World
Movie Review with White Crow
Onondaga elder
As Told To Terri Hefner
Now there were a couple of things they did get right. In the beginning of the movie when they first come up to the white men, you see these warriors sniff the air. So you know Europeans didn't believe in bathing too often, and so that is a fact, because even in my culture they talk about how unclean the Europeans were. And so I imagine after being three months on a ship ... you know. So that is a fact. OK, it shows them planting tobacco, they showed them putting fish in the soil. That I know is a fact, because I used to help my grandmother plant not only tobacco but corn and everything else. And they also got that when you plant corn, you plant beans right next to it, and the corn grew faster than the beans so the corn would be pretty high before the beans started sprouting around it so it didn't smother out the corn. And it did show that in the movie.
I don't know where they actually did the filming of the movie, but the Powhatans were in the area that they call Chesapeake Bay, and wherever they were that was so much like Chesapeake Bay. But today you wouldn't have that much wilderness because I've been through that area and it's all built up now. A lot of times you see these movies and you see an Indian peeking out from behind a rubber plant tree, you know. But they had the trees, you know, they had the oaks, there were maples. I'm sure it was someplace Eastern, because the woodlands were perfect, and the swamplands were like they have in Chesapeake Bay. The scenery in the background was perfect.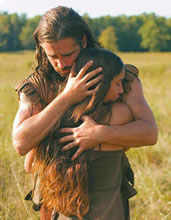 Other things, like they didn't show that many women, and believe it or not, and this is a fact, women were the politicians. They appointed who was to be chief and who was to sit on council. And as my grandmother told me, if they appointed a man and he wasn't doing right for the tribe, we didn't have to wait four years to get rid of him. They should have shown more interaction with women. And that young girl they had playing Pocahontas, even though I never heard her name spoken throughout the movie and it wasn't until later when she was baptised Rebecca by the English did anyone mention her name, then they called her Rebecca.
And a few other things. The interiors were dark, it was hard to really see things, but they had this domed building and the chief and, by the way the guy was dressed he would probably be called what the Europeans call "the medicine man," were in there. And it was like a dome, and it looked like they had some kind of mannequin set up, and it was back-lit, through this dome, and it looked like dead people stretched out across this platform. And they were I assume doing a religious thing. But that is completely wrong. Because we did not have what today would be called a church inside of a building. When we spoke to the creator, we spoke outside.
A lot of inaccuracies then, as far as the Native-American culture?
I'm sure the clothing they were showing was accurate, except I know no young girl would be running around in a grassy field so scantily clad as the young lady playing Pocahontas. And it showed a lot of that, which I couldn't understand, this little girl prancing around in the high grass with barely nothing on. You know, modesty for women was paramount as far as our culture was concerned. She wouldn't be prancing around with half her things hanging out. But that's Hollywood.
Would you recommend this film?
If somebody wants to see a slow-moving love story, then I would recommend it. But if they want to see historical facts or Native American culture, you're wasting your time.
I really don't know how popular this movie was, because we went to the 7:10 p.m. movie, and when we walked in there was nobody in the theater and it was about 5 minutes before it started. And maybe 10 people in the whole theater. So I don't think it's going to go over. I mean, they've done this Pocahontas thing so many times.
But from a Native American point of view, they're not going to get anything out of it.
How would you rate the acting?
There was good acting. I think the whole problem with the movie is the guy who wrote the script. He should have looked more into the culture, get the facts right. A lot of people who don't know the Native American culture are going to look at that and they're going to think that young ladies prance around in hardly nothing. And there were very few women in the whole movie, there were some English, but as far as the native people, once in a while you'd see a woman in the background, and especially your Eastern Woodland Indians, the women, as I say, were the politicians; they controlled. And it's logical. The women were always in the village. They knew the needs of the children, the elders and everybody in the village. The men were either out hunting or warring.
In a four star rating, with four being the highest, what would you rate this film?
One Star I'm sorry.
There are some other things that are facts, like they showed them drying tobacco. They didn't do it that way. If they did it the way they show it in the movie, the stuff would mildew. They had it in bunches. These things I know because I was raised by my grandmother and until I was 16 years old I had very little contact with white European-type people. And all my teaching was from my grandmother and from another elderly man who lived way back up in the mountains, and everybody just called him "The Grandfather." And, of course, our culture was taught through stories because we didn't have a written language. I left at 16 and joined the Army. Talk about culture shock.
How often do you go to the movies?
Very rare. To show you how rare, I went to see The Lord of the Rings, and prior to that the last movie I'd seen was Ben Hur when that came out.
Most Recent Comment(s):