Wednesday - March 07, 2007
By
.(JavaScript must be enabled to view this email address)

Movies Showtimes
Share

The Number 23
Tony Pisculli
Co-founder and producer of the Hawaii Shakespeare Festival
As Told To Melissa Moniz
Where and with whom did you see the movie?
I was by myself at Ward Theatres.
Overall what did you think of the movie?
Overall I was surprised.
It was much better than I expected it to be.
What was the best aspect of the movie?
The cinematography.
There were some stunning visual images and the use of different film stocks to give the story within a story that gives it completely different look that is very intense.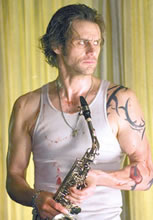 What did you think about Jim Carrey's acting?
Jim Carrey is great. It's really good to see him doing something more serious.With Eternal Sunshine of A Spotless Mind, that was a bit morbid and not my cup of tea. This is good. He makes a really nice, quirky everyman.
Could you give a brief synopsis without giving the movie away?
That's tough to do. It's presented in the trailer as if it's going to be a big numerology mystery, and that's why I had my reservations going in. Like it's some cosmic significance about the number 23. However, it's really about the nature of obsession and how people can get caught up in an idea. And how even a really powerful idea can be almost transmitted like a virus, and that one man's obsession can spread. And it's got some nice twists in the end. It's more of a psychological thriller.
Did the end leave you hanging, or did it come to a conclusion?
It wraps up all the threads very neatly.
Is this a movie that you would see again?
No, because once the mystery is gone, it's gone. I'm not a person who sees movies repeatedly anyway. Although I would love to see clips from it again because some of the clips were just stunning.
With your experience with theatre and improv, how difficult would you say it is to create a movie like this from the acting standpoint?
For the acting, I don't know if it was a demanding movie. Although an interesting thing is that in the story within a story, all the characters play alternate versions of themselves. So Jim Carrey is himself, but he also has this other character in the story. So that must have been fun for the actors.
What type of audience would enjoy this film?
I think people who enjoy Lost would enjoy this film. It's got that sort of sense of mystery and suspense to it. A sort of cosmic significance looming, and what does it all mean at the end? However this one wraps up, unlike Lost.
Was it a movie that builds up only to let you down at the end, or would you say is was a good ending?
I would say it's both actually. It's a good ending that wraps up all the storylines and you understand everything. It plays pretty honestly, unlike other psychological thrillers - I think they cheat. This one plays fair like Sixth Sense does. The Sixth Sense is able to give you that spin and have everything make sense with one single image. This is not so neatly done.There's quite a bit of exposition at the end where the whole story grinds to a halt, and they're like let's tell you what this all means. So in that sense it's more like Psycho.It's satisfying in that they wrap it up, but it could just be cleaner.
In a four star rating, with four being the highest, what would you rate it?
I would give it two and 1/2 stars. It was satisfying, but not good enough for three stars.
What's your favorite movie snack?
Popcorn.
How often do you go to the movies?
When I'm not working on a show, I probably go to one to two movies at the theatre a week.And then one or two on DVD.And if I'm rehearsing a show?
This is the first movie I've seen in two months because I'm just closing a show.
What do you think is the biggest difference between watching something at the cinema and watching something live on stage?
Cinema has a lot of advantages in terms of directing your focus, and control over the image and the sound.The scale that you have in terms of money you can spend brings a lot greater resources.And so a mediocre film almost always beats out a mediocre stage play. But when everything is working on stage there's an immediacy and a rawness, it's much much more visceral. So an excellent stage play is much better than an excellent film.
What's new?
I'm gearing up for the summer season of the Hawaii Shakespeare Festival. That's going to be a big thing. It's going to be at Mark's Garage, so that is really exciting because we talked about that intimacy and immediacy, and it's going to be an extremely intimate venue for the Hawaii Shakespeare Festival.And in the more shorter term I'm working on a one-woman show with Elizabeth Wolfe. It's a completely improvised long-form narrative,which is going to be exciting too. That's coming up at the end of the month, also at Mark's Garage.
Next week: a new movie, a new celebrity
Most Recent Comment(s):