Wednesday - August 18, 2010
By
.(JavaScript must be enabled to view this email address)

Movies Showtimes
Share

Augie T.
Radio Personality, Comedian, KCCN FM100
Where and with whom did you see the movie?
I saw the movie at Kapolei Consolidated Theatres with my wife, Kim.
Overall, what did you think?
I thought it was a real guy film, really funny. I learned a lot about how people try to rip you off. If you dive deep, it kind of goes hand-in-hand with all the stock market scams.
On a scale of one to four stars, what would you rate this film?
★★★
Without giving away the ending, what was one of your favorite scenes?
Oh, the dialogues are great. There was one with Will Ferrell explaining how he'll adapt as a tiger, when Mark Wahlberg says he's going to eat his family.
The one when Mark Wahlberg is hitting on Will Ferrell's wife (Eva Mendes) is classic. Just crazy dialogues.
Was the message/theme clear?
Yes, it is there for stupidity. What they did at the end of the movie really brings it all together. It's a spoof on the stock market ripoffs, like the Ponzi or Madoff schemes. If you wait until the end, it really explains that.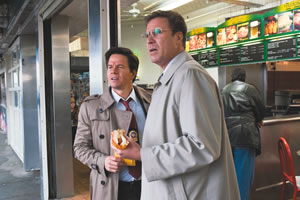 Did it remind you of any other work in film?
No, it was definitely an original. Kind of your typical good guy vs. bad guy plot. It was fun watching Mark Wahlberg do a comedy.
What about the acting? Did anyone stand out to you?
Michael Keaton and his T.L.C. one-liners. It was kind of unexpected but real funny.
Was the movie as good as the previews made it out to be?
The previews are what sold me. It's stupid and dumb. It isn't Beverly Hills Cop or anything, but hilarious.
What's your favorite movie snack?
Popcorn with mochi crunch. If you see me limping into the movie theater, I might be hiding something else too.
On a different note, what's new with you?
On Sept. 24 at the Hawaii Theatre I will be performing my oneman show.
Tickets are on sale now. Kolohe Kai will be making an appearance, and special guest Frank De Lima will be there. We'll also be taping for my next DVD.
Most Recent Comment(s):