Wednesday - February 22, 2006
By
.(JavaScript must be enabled to view this email address)

Movies Showtimes
Share

The Pink Panther
Movie Review with Mark Stitham
Psychiatrist, Actor
As Told To Rasa Fournier
Where and with whom did you see the movie?
Three people - Walter Wright,a retired newspaper journalist,his wife,Jane,and his friend, Jerry.We went to Ward Theatre.
Overall did you like the movie, and why?
First of all Don Chapman, your editor,assigned me this because he said he owed me for that turkey Anger Management. Guess what, Don,you still owe me.It's just another fine example of the bankruptcy of ideas that Hollywood has. When they don't have any new ideas,they try to recycle the old ones.I mean,do we really need three King Kongs?
Do we need Psycho redone in color when the original by Hitchcock was brilliant? The movie tries way too hard.An example: In one of the first gags, Steve Martin as Clouseau is in a very tiny car. He's got about a two-limousine-length car parking space.He pulls in,he backs into the back car knocking the bumper off,he goes to the front and knocks the front one. And then he does it again. I mean ... weak, lame! It was just awful, awful, awful. Anger
Management was one of the worst movies ever. But this is on the top 10 list.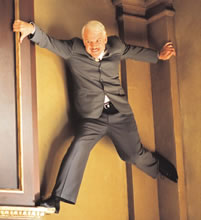 Did the movie do justice to the original Pink Panther with Peter Sellers?
All of us had seen the original and we had an open mind. For one thing, this one was way too careful. In the original, Clouseau was bumbling. I mean, Klein looked like the Clouseau. Martin goes out and solves everything.He discovers something by looking deep into the picture.Clouseau wouldn't do that. Clouseau succeeded in spite of himself, not because of his cleverness.
There is a world of difference between Peter Sellers and Steve Martin. Sellers became Clouseau.He is an artist.Martin is just going through the motions.I think he played Clouseau,he wasn't Clouseau.I could not think that this is not Steve Martin.This has the odor of "let's take a franchise that was successful and throw some stars in it and we'll make lots of money,"but if there is a Pink Panther 2 in this period,I'll eat my hat.
The bottom line is,and we all agreed to this - if you have seen the original Peter Sellers, then pass on this.If you have never seen it,and a lot of the younger generation hasn't,go to your video store or Netflix and rent it and see how it was meant to be done.
Favorite scene(s)?
I didn't laugh until 20 minutes into the movie,and even then, mildly.The only time I laughed out loud was when he goes, "I'm very sensitive to the sexual gender issues" and then he said "Let's kiss on it" and he smacked her butt.That was funny.The rest of it was ridiculous. The popcorn was the best part of the movie.
There is one funny scene ... a language lesson where Martin tries to speak American with a woman who is a language coach. It was a very funny scene. But one good scene does not a movie make.
How would you rate the acting?
There was some good talent in this thing,but it was totally wasted.Steve Martin can be a funny guy, but he wrote part of this and has to take some of the blame. I've seen Kevin Klein do a lot better. Kevin Klein can't even keep a steady accent. He goes from French to English within the movie. Martin at least keeps a consistent accent. Beyonce can't act her way out of a paper bag, but that's an Austin Powers thing too.Beyonce looks very good. She's eye candy. But this is just sad. I put this in the category of Car 54, Where Are You?, redone McHale's Navy.
I think people were in this for the money. Jean Reno, a French actor of international repute, looked totally embarrassed. He is an international actor so he had to play the sidekick. I hope he got a lot of money. He probably got more money for this than he was paid in his entire life because it's an American,A-rated or A-run film.
Did it have a good soundtrack?
I have a soft spot in my heart for this movie because I played the Pink Panther theme in the '60s in a stage band in high school. I played trombone. Mancini's theme song was the best part of the original movie.The cartoon credits at the beginning (of the new movie)- that was great. You can't mess up a classic theme song, but it's pretty sad when the best part of the movie is the theme song.
Is there anyone to whom you would recommend this film?
I wouldn't recommend it to anybody except a homeless person who wanted to come in from the street.
In a four star rating,with four being the highest,what would you and your companions rate this film?
One and 1/2 stars.The last one, Anger Management, I gave minus one, so we're coming up, but tell Uncle Chaps that he still owes me.
How often do you go to the movies?
I don't go to movies much anymore for three reasons, and it's not cost. One is the commercials, which I find to be a totally obnoxious trend when we're paying for this. Two, the trailers are giving away the best jokes and the plot,even the plot twists.Third, because of DVDs people now see movies in their homes and they are getting used to talking in the theater. I do a lot of theater and it's not like theater. It's not a different experience every night.In theater,the audience becomes the fifth player,so every night it's exciting. Which is why after seeing a movie I just go back to the theater.
So,I don't go to movies that often and after last night, even less often. (laughs)
Do you have a favorite actor/actress?
Far and away a preeminent actor is Johnny Depp. His range is unbelievable. I've done some episodic TV series. I was in Lost and I've done Jake and the Fat Man. I've done a lot of theater here ... about 10 productions in the last 10 years, so I have some understanding or empathy with acting,and I don't think anybody even comes close to Johnny Depp.
My favorite actress is no longer around: Cathy Moriarty.She was in Raging Bull.Time is not kind to women.They've got to keep looking like they're 25,and everybody loses that battle. Sex and the City did a lot for that. It showed four woman who were having a good time. One of them was clearly over 40 and the others were in their 30s.
What's new with you?
I do a lot of theater. I've done Diamond Head and Manoa. I did Six Degrees of Separationand Blithe Spiritat Diamond Head. I had a part in Lost as a doctor. I played a doctor and I am a doctor. I had a scene with Matt Fox, the star.The last thing I did was Art at the Yellow Brick Studio two years ago. It's time for me to try out for something again. It takes a lot of time - two months of rehearsal and a month of performance. You have to be three months blocked into town,and it's hard to do that.
Next week: a new movie, a new celebrity
Most Recent Comment(s):