Wednesday - November 01, 2006
By
.(JavaScript must be enabled to view this email address)

Movies Showtimes
Share

The Prestige
Monty
Magician
As Told To Melissa Moniz
Where and with whom did you see the movie?
I saw it at Ward Theatres with Veronica, who handles most of my bookings and handles my customer relations for my magic shows.
Overall what did you think of the movie?
I really liked it. It was really nice. I did find it a little difficult to follow in some places, but I really liked the movie. It was interesting and held my interest.
There was an interesting plot, but it was difficult to follow at times.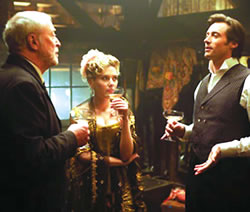 Were there a lot of magic scenes in the movie?
There were quite a few magic scenes. Most of them were along the lines of large stage illusions because there wasn't much in the area of close up illusions or anything like that. It was more the grand illusions, but it was very interesting what they were doing.
Were there any illusions that you have never seen before?
No, there really wasn't anything that I have never seen before, but there were several things that the public would never have seen before.The illusions would have been familiar to magicians, but if you aren't really familiar with magic you would not have seen them before. They were based around trying to come up with new illusions to try and outdo each other.
How would you rate the acting?
The acting was really good. I definitely enjoyed the acting. The acting, I thought, was superb.
The previews gave off the impression that it a dark type of movie. Is that accurate?
Actually it was. If anything, that was one of the areas that I was really disappointed with. It did kind of make magicians look bad in that respect. The movie did have a dark side to it that did make magicians look a little evil and vengeful against each other, which is really not true at all. Maybe back at the turn of the century when this movie was set, but even then I don't think it was as bad as this movie made it look.
Is it a movie that you would see again?
Yes I would. As a matter of fact I would enjoy seeing it again to really understand all the plot twists and turns. I mean, you could follow it enough that you could enjoy the movie and the ending, but I'm sure there's a lot that I didn't understand.They had flashbacks from present to future and some of them were pretty difficult to follow.
Is there another movie you've seen that you could compare this one to, or does it stand on its own?
It kind of stands on its own. I haven't seen a movie that matches it or is along the same lines at all.There's not very many movies about magicians, so if you like magic I would certainly recommend seeing it. I would definitely say, though, that it is not very characteristic of magicians. And one thing that I didn't like is it portrayed a cruelty to animals, which probably did exist at the turn of the century, but certainly does not exist today. The magicians treat animals like part of their family, and I have never seen any cruelty to animals with magicians. And I found that part disappointing.
In a four star rating, with four being the highest, what would you rate it?
Probably three stars.
What's your favorite movie snack?
It would have to be popcorn.
Do you have a favorite movie of all time?
Wow, there's so many that I like. I like all the futuristic-type movies like Star Trek, Back to the Future, Planet of the Apes and things like that - movies that makes you really wonder what the future might be.
Do you have a favorite actor/actress?
Not really.
What's new?
Right now I'm very involved with National Magic Week. Halloween and the last week of October is National Magic Week, which may be why this movie was released. It's in memory of when Houdini died - Houdini died on Halloween back in 1926. And so I'm very involved with that.
As for magic shows, do you have any public performances coming up?
Right at this minute I don't. I have only private shows. But what they can do is check my website - montysmagic.com - and that will always have a listing of my public shows. The reason I don't have any public shows right now is I just came back from a tour on the Mainland and I'll be traveling again on the Mainland next month.
Next week: a new movie, a new celebrity
Most Recent Comment(s):