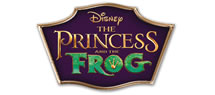 Wednesday - December 23, 2009
By
.(JavaScript must be enabled to view this email address)

Movies Showtimes
Share

Jessica Hoffman
Founder of Pure Beauty Ministries, Makeup Artist
Where and with whom did you see the movie?
Right now I'm in California, and I saw a matinée with my mother and my sister, who both really enjoyed the film.
Overall, what did you think?
This movie was really entertaining and so insightful. What I loved about it is that you have to really wait until the end of the movie to be presented with a really good lesson. The moral of the story, they throw it at you in the beginning, but there's so much to learn through the film. I definitely recommend it for children and people of all ages.It's a fairy-tale movie, but it's the real world, too. I really liked it because it was the classic, pretty Disney, but it was also down to earth.
On a scale of one to four stars, what would you rate this film?
Honestly, I have gone to a lot of movies recently.This is probably the fourth film in, like, a month, and I usually leave feeling it could have been better, but this one didn't disappoint. I was actually waiting for this one to disappoint me because, again, it was really classic Disney. I've worked for Disney and I've watched all Disney films, so I thought that there was going to be a catch or that I wasn't going to like the ending. But I loved it! Me being 28 years old and my older sister and my mom being married women, we all left teary-eyed thinking it was really good. So I would give it ★★★★ .
How would you compare this film to other Disney princess-themed movies?
It did have a touch of Aladdin to it because the princess had a lot more depth to her and a lot of good character. So all throughout it reminded me a lot ofAladdin and The Jungle Book. For me, everything was very well-rounded and pretty. I would honestly have to say that this movie is up there in my top three Disney movies. It was really good.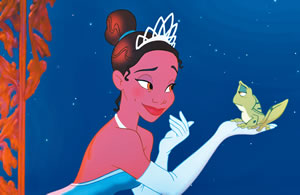 So you really enjoyed Princess Tiana's (Anika Noni Rose) character?
I did.The first song that she did was about working hard to achieve your dreams. It was still dreamy, but in a real way. She's singing about her big dream, and what I love about it is that she wasn't singing about a man, but she was singing about a purpose in life. I really liked that her heart was aflutter because of a dream she had. I loved that she had a lot of depth to her. In a way, like Jasmine with Aladdin, she wasn't easily pleased with the guys she's seen. She's very driven.There's a part in the movie where she and a friend she grows up with, who is waiting around for her Prince Charming, are looking up in the sky, and her friend says "I want my Prince Charming, please, please, please."Then Tiana looks up to the star and she is holding on to her dream, and she says,"Please, please, please make it come true."I love that for Tiana it wasn't about a man making her happy. She really wanted to live out her dream and a purpose.
Isn't it great that Disney has a princess character whose only goal in life isn't to meet her prince and live happily every after?
Yes. I played Snow White in Tokyo and I was 24 at that time. I was on a float as Snow White singing, I'm wishing for the one I love to find me today. (laughs) It was all about, "I hope you find me and I'm waiting and I can't think of anything else." I think that's the heart of every young girl, but we can't forget that it's important to find who you are and your purpose. So, yes, I love that Disney is venturing into a bigger purpose other than finding a handsome guy.
On a different note, what are you up to these days?
I've been doing a lot more writing and art directing. My main job for the past years has been in makeup and hair. This year I was blessed to go to Fiji, and I've been all around the U.S. That was really exciting, and then I'm kind of venturing more into a role as beauty editor, so I've been doing beauty writing. In the new year I'll be doing a lot more inspiring and education. Perhaps a beauty segment on the morning news and with a local television channel - we're looking into doing a show on inward and outward beauty.
Most Recent Comment(s):