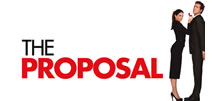 Wednesday - July 01, 2009

Movies Showtimes
Share

Dan And Sandra Olson
Owners of Women's Surf Style Magazine
as told to Melissa Moniz
Where did you see the movie?
Sandra: We saw it at Ward 16.
Overall what did you think of the movie?
Sandra: I thought it was great. A lot of great laughs, and it was very entertaining.
Dan: I did not get bored, so it was pretty good.
How was the acting? Did Sandra Bullock and Ryan Reynolds have chemistry?
Dan: They are both good actors, but I don't think they had chemistry between each other. I think it's a big mistake to try to marry someone who is as mean as her. You spend one weekend with them and think they changed. But that's Hollywood.
Were there other actors who stood out?
Sandra: The guy that plays Andrew's dad was pretty funny. But mainly just the two main characters. They were very colorful.
Was the storyline believable and did you enjoy it?
Dan: I totally enjoyed the storyline, but its not too believable. But that's most movies.
Sandra: It was really very entertaining from start to finish, and there were a couple times when we just laughed out loud. It kept a smile on our faces, and other times we were horrified at just how mean she was to everybody.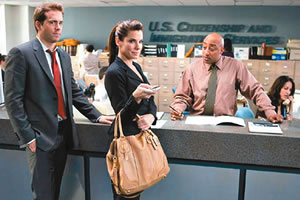 Without giving away the ending, what was your favorite scene?
Dan: I think one of my favorite scenes is when the eagle came down and swooped up the dog.We have a little dog, and we've heard the stories from our grandparents in Kentucky and Tennessee about how the eagles would come into the fields and snatch the babies so they would have to hit them with their shovels.And so seeing the eagle come down and pick up the dog and her throwing her cell phone at the eagle was kinda funny.
Sandra: That eagle scene was pretty funny. But I also like that scene in the woods where the grandmother is chanting and dancing around the bonfire. Then she gets Sandra Bullock to do it, too, but she's real uptight and not a person who would normally do that.And her husband walks up while she's doing it and she looks like a complete idiot. That was pretty funny.
On a scale of one to four stars, what would you rate the movie?
★★★
To whom would you recommend this movie?
Dan: I'd recommend it for adults because there's a lot of nudity and a lot of suggestive details, like them sleeping in bed before they're married.
Sandra: I'd say for young adults.
Do you have a favorite movie snack?
Sandra: Hot dogs.
What's new?
Dan: We just had the new issue hit the stands, so that will be out for six months. It's our spring/summer issue. And we just had a fashion show and summer surf party at Senor Frogs. There were about 600-plus people.
Sandra: We're thinking about doing another Christmas party in December, which we do every year. I think it will complement our fall/winter issue.We come out with two issues per year.
Most Recent Comment(s):