Wednesday - April 18, 2007
By
.(JavaScript must be enabled to view this email address)

Movies Showtimes
Share

The Reaping
Charles Couch
Pastor, Calvary Chapel West Oahu
As Told To Melissa Moniz
Where and with whom did you see the movie?
I saw it at the Ward Theatres with my wife Irene and my daughter Christian.
Overall what did you think of the movie?
I went in,myself being a Christian, with some curiosity about how they would portray the plagues told in Exodus. For me, it didn't give an actual portrayal of God's faithfulness, and his love and mercy. I didn't really care for it.
Do you think the movie portrayed religion in a negative light?
In my opinion, as I watched the movie - and it seems like they've been doing it in a lot of movies recently - that it seems like they portray God in an unfaithful kind of way, and not really loving and merciful.
How was the acting?
For Hilary Swank, I think she did a good job. She's a good actress.
Did the movie have a deeper meaning?
I don't think there was a deeper meaning.
I think it was just horror and gore, and the Hollywood depiction of the plagues.They had it all from the water turning to blood, but it was totally different because it was the little girl who turned this water to blood. And then they just talked about the first-born,and so they kind of portrayed the plagues, but again in a negative light.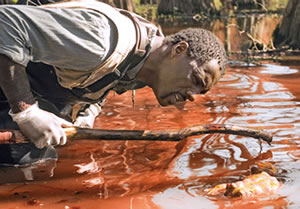 Is it a movie you would see again?
No, I wouldn't.
Was there anything you liked about the movie?
Yeah, the one thing I liked was in the end of the movie when Hilary Swank was told that she has to kill the girl.And I think it was her, or it was said there that is not God.And that was the only thing that was positive, is that yes, that is not God and God is not like that. He is a God of love.And in the Bible the plagues were originated by God to set free his people, and that was actually really good because of a promise he made to Abraham. But in the movie you have the plagues,and you can't really tell where it's originating from,and it's almost like saying that God is trying to bring Hilary Swank back because God didn't answer one of her prayers. She is a minister who when God didn't answer her prayer and her husband and daughter die, she went ahead disproving all the miracles with a scientific explanation. So it was hard to watch because it was all Hollywood portraying God in a really negative way.
What scene stood out for you?
You know,for me it was just interesting how they would portray the different plagues, because in the Bible the proportion of the plagues were just enormous to what they portrayed in the movie. In the Bible, it was over all of Egypt.
Is there any movie you've seen to which you could compare this one?
You know, it kind of reminded me of movies in the same style of The Omen,because it was about a child possessed by the devil, and they portrayed the little girl as that. The ending of the movie was kind of confusing as to what they were trying to say, because there was Satanic worshiping involved with the children being strung up.
In a four star rating, with four being the highest, what would you rate it?
I would give it one star. I don't really like it.
What's your favorite movie snack?
Heavily buttered popcorn, and I like to bring in my own li-hing mui powder and mix it in.
How often do you go to the movies?
Maybe once every two to three months. Not very often.
What's new?
We're just excited what the Lord's been doing with the church in Ewa Beach. He gave us a property across the street, so we've been praying as to how and when the Lord might be able to move us there. And so we're just looking to see what God will do, and how we can use the church to reach out into the community.We have the planning to build, and so hopefully it will happen.Also, on May 5 we have Women's Tea at the church, which is a big event for us. Any ladies interested in attending can call the church at 689-6297.And we just finished Easter, and the next big thing we are looking to do is a luau at the church free of charge, just as a fellowship.

Next week: a new movie, a new celebrity
Most Recent Comment(s):