Wednesday - November 15, 2006
By
.(JavaScript must be enabled to view this email address)

Movies Showtimes
Share

The Santa Clause 3: The Escape Clause
John Gruhler III
General Manager, Aloha Music International
As Told To Melissa Moniz
Where and with whom did you see the movie?
I went by myself and I went to Koolau 10.
Overall what did you think of the movie?
I think it was entertaining.The thing I liked about it is that it gave a new spin on the Santa Claus myth, and that it was the power of the coat rather than any individual who sort of has this supernatural presence. And that it's not the perpetual Santa Claus, and not just one person.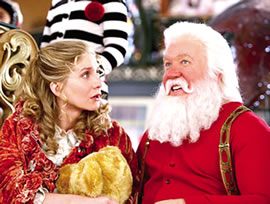 That's what this movie introduced to me. Twelve years ago this character watched Santa Claus fall to his death, and put the coat on and became Santa Claus, and I think that's what I liked best about the movie.
What was the conflict in the movie?
The conflict was that you've got Jack Frost, who was another supernatural icon.There was a group of them: Mother Nature, Father Time, Cupid and all these other people. And the conflict was between Santa Claus and Jack Frost. Jack Frost was jealous of Santa Claus, and was able to trick him into never being Santa Claus because there was this thing that was like this globe, and if they have the globe in their hand and say "I wish I was never Santa Claus,"then they would go back to their life.And so what wound up happening is Jack Frost tricked him into doing that, and Jack Frost became Santa Claus.Then they fast forward 12 years later and they've turned the North Pole into an amusement park instead of a toy factory.
How was Mrs. Claus incorporated into this movie?
It was interesting in that, sort of non-traditional, this was his second wife. So they sort of brought the modernizing of the family unit, where they introduced divorce. She was a younger one, and he had already had a previous family. And this new Mrs. Claus was giving birth to her first child during
Christmas season.
And that was an interesting spin there, because what ended up happening is that Mrs. Claus had to isolate herself from her family. However, the whole idea of giving birth and the emotional side of being a mom for the first time is that she wanted her family there. And so Santa Claus conceded, and the Sandman knocked them out and was able to bring them to the North Pole, and they thought it was Canada. It was a whole cute little spin on the whole thing.
I know the other "older" Mrs. Santa Claus was in the other movies. What happened to her?
Yeah, but it wasn't really older because Tim Allen, who plays Santa Claus, he was in his 40s and they had a child. And so what happened is that when he became Santa Claus it became so all-consuming. I didn't see the first two movies, but what I could gather is that he was married, and they wound up getting a divorce because she couldn't handle the lifestyle of being Mrs. Santa Claus. So they got divorced, and that's when he found this new wife and started another family.
How would you rate the acting in the movie?
Well I'm a Tim Allen fan and a Martin Short fan, so I would say the overall acting was good.
If you had to pick something, what would you say was the worst aspect of the movie?
Wow,as you can tell I'm usually a man of many words, but you've silenced me because I can't really think of something that I really didn't like. Well OK, it wasn't my favorite movie. I wouldn't go to see it five times or anything like that. But there wasn't anything in terms of production value, sound or visual that was horrible.But maybe there were things in the storyline that maybe could have been cut out. I guess that was the part. The thing that I thought was funny is that they spent a little too much time on the reindeer and what they ate.They ate oats, so they kept on farting and it was hilarious, but they spent a little too much time on it.I mean,Santa would go and say, eh, you gotta lay off the oats and things like that, but it didn't really contribute to anything in the scene or the story. I'm reaching here, but that was the thing I didn't particularly care for.
What type of audience do you think would enjoy this film most?
I think it's pretty broad-based 'cause of the Santa Claus myth.However,I think kids would be the target, and their parents who would be bringing them.
Do you think, for a young child who still believes in Santa, that this movie would go against that or even ruin it for them?
Well, it all depends on how they believe in Santa. If they believe that Santa is this mystical creature that comes just once a year and all that stuff, then maybe it would because they show the back end side.
In a four star rating, with four being the highest, what would you rate it?
About two and 1/2 stars.
What's your favorite movie snack?
Popcorn.
What's your favorite movie of all time?
The Wizard of Oz.
How often do you go to the movie?
I would say about two or three times a month.
What is your favorite movie genre?
Foreign films. I speak French fluently and I love to watch French films.
What's new?
Certainly technology has created a whole generation of folks who feel they don't have to pay for music, so I am tremendously challenged with that. I mean, traditional retail as it is, Tower going out of business, blah, blah, blah. I mean I don't want to paint a negative picture, but certainly we are challenged right now. And so those are my challenges.The upside is that we're trying to go to the next level because the good news is that music is not going away, and certainly Hawaiian music is not going anywhere. We have a visitor industry that still relies on buying traditional CDs.And so my challenge now is to get even more into how we're marketing to the visitor industry.
Next week: a new movie, a new celebrity
Most Recent Comment(s):