Wednesday - October 29, 2008
By Kerry Miller

Movies Showtimes
Share

Kristi Cardoso
Fund Development Manager for Girl Scout Council of Hawaii
as told to Kerry Miller
Where and with whom did you see the movie?
Kahala Theater with my husband, Fabio Cardoso.
Overall, what did you think?
It was OK.
This movie is based on the book The Secret Life of Bees by Sue Monk Kidd. Did you read the book and, if so, how does the movie compare to it?
I hadn't read the book, but I knew it was a bestseller. Probably a lot of people really love the book and they hope the movie will live up to the book.
What about the acting; did anyone stand out?
I thought the acting was flat.I thought Dakota Fanning did a good job. I thought Queen Latifah, Jennifer Hudson and Alicia Keys, their performances were uninspired.I thought actually that Sophie Okonedo, she had the most interesting performance, although I thought she was possibly overdirected.
Did you take away any message or lesson from the movie or any of its characters, something perhaps you could relate to the Girl Scouts?
No. I think the theme of the movie is forgiveness for family and for love. It was a very sentimental movie.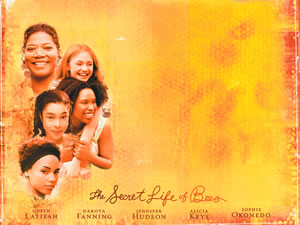 What about the movie's soundtrack; were there any songs you recognized or that you felt added to the movie in any way?
I assume some of the music was by either Alicia Keys, Jennifer Hudson or Queen Latifah, but I didn't recognize the songs.
On a scale of one to four stars, what would you rate this movie?
★
To whom would you recommend this movie?
I would recommend it to people who like tear-jerkers. There was an assortment of teenagers in the theater, girls, and they were all sniffling.
What's your favorite type of movie?
I like all kind of movies. I would say right now City of God is one of my favorites.
Favorite movie snack?
Sour Patch Kids.
What's new?
We are working on our annual Woman of Distinction Dinner. It will take place Dec.10 at Hilton Hawaiian Village. Each year we pay tribute to women who exemplify the highest ideals of Girl Scouts values, who have made great contributions to their communities and to our aspiring role models.This year we are honoring four extraordinary business-women whose remarkable journeys of success have established them at the forefront of their respective industries. Our first is Bev Gannon,she's of Bev Gannon Restaurants. The second is Beadie Kanahele Dawson,she's of Dawson Group Inc.Our third is Anne Namba, her company is Anna Namba Designs. Our fourth is Mary Worrall, her company is Mary Worrall Associates Southeby's International Realty.The public is invited to attend.For more information or to purchase tickets, contact 675-5516 or .(JavaScript must be enabled to view this email address).
Most Recent Comment(s):