Wednesday - May 03, 2006
By
.(JavaScript must be enabled to view this email address)

Movies Showtimes
Share

The Sentinel
Movie Review with Kirk Matthews
KHON2 Morning News Anchor
As Told To Katie Young
Where and with whom did you see the movie?
I saw the movie at Dole Cannery Theatre by myself. I mean, there was nobody else in there for a Monday matinee.
Overall what did you think?
It was not as good as I expected.There were lots of parts of the movie that were incredible - in a bad way.The movie itself was shot in that herky-jerky MTV style that seems to be popular these days. Hold the camera still, idiot, so I can see what's going on!
What was your favorite scene?
It was a short scene and there was only one line that made me chuckle out loud.The Secret Service agents are being given a lie detector test.One of the agents is asked,"Have you had the proper training to protect the president of the United States?"The guy answers, "No, but I did sleep at a Holiday Inn Express last night."
Did you have a favorite character?
No, I did not have a favorite character. I did have a least favorite character. Eva Longoria's character. I am still trying to figure out what she was doing in this movie.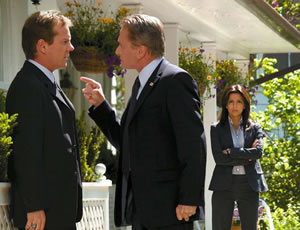 How would you rate the acting?
The acting was good.Michael Douglas plays the wronged Secret Service adulterer very well. Oh,by the way,Roger Ebert totally missed something - although he is having an affair with the president's wife, Douglas' character did not have an affair with Kiefer Sutherland's char-acter's wife.That was just snide Secret Service gossip.Man,for an outfit with the name "Secret" - what a bunch of rumor mongers.
How were the special effects?
Big bullet holes.And a great crowd scene - I mean,you could almost believe there would be a large group of protesters at a G-8 economic summit meeting. Oh, wait a minute ...
Did the movie have a meaning?
Nah. Oh, I suppose if you're being framed for trying to assassinate the president,it's best if you run away from your best friend who thinks you had an affair with his wife.
What was the best/worst aspect about the movie?
The best aspect was the Dole Cannery Theatre and the fact that I got to see the movie alone.The worst aspect is that somebody may actually cast Eva Longoria again.
To whom would you recommend the film?
Not to Secret Service guys, that's for sure.
On a four star rating, with four being the highest what would you rate the movie?
One Star.I know,Roger Ebert gave it a three-star rating last week. But you know what? I know Roger. He and I have talked about movies. He may have seen something redeeming in this film,I don't know.But I do know he won't be putting this one in his DVD collection alongside Citizen Kane.
What's your favorite movie snack?
Garlic-soaked dried cuttlefish. Which may explain why there was no one else in the theater.
What's your favorite movie?
Stand By Me. Kids ask me this question all the time.Here's the simple truth: Stand By Me has great acting, a terrific story and no special effects.If you are a guy and you haven't seen this movie, shame on you.
How often do you go to the movies?
I go to the movies about twice a month, but I watch movies constantly. Mrs. Matthews (Linda Coble) and I belong to one of those "order it through the mail watch it and send it back"deals.It's the best.
Who's your favorite movie buddy?
Mrs.Matthews is my only movie buddy.
When we were courting and we went to the movies for the first time, I put my arm around her during the previews."What are you doing?"she asked."Just putting my arm around you," I said. "Fine," she said,"when the movie starts, move it or lose it." She does like her movies.
What genre of movies do you like?
I like the little movies, like Sideways or Priscilla, Queen of the Desert. Movies where people act and directors direct. Computer-animated movies are OK as a diversion, and the BIG movies are OK when you want to eat popcorn. But little movies make you think.
What's new?
What's new is: Hawaii's Morning News on KHON2 from 5 to 8 a.m.every morning! Tannya Joaquin (whose father-in-law is a real Secret Service agent and should probably have reviewed this movie), Manolo Morales,Trini Kaopuiki and I are having a tremendous time keeping Hawaii up to date on events in their community, nation and world. Mrs. Matthews (Linda Coble) is on board from time to time - but right now,she and I are focusing on our home business of marketing Uncle Kirk's Garlic Soaked Dried Cuttlefish.
Next week: a new movie, a new celebrity
Most Recent Comment(s):