Wednesday - May 06, 2009
By Kerry Miller

Movies Showtimes
Share

Jonathan Parrish
General Manager of Chamber Music Hawaii
as told to Kerry Miller
Where and with whom did you see the movie?
I saw it at Dole Cannery. My wife Minou Lallemand went with me.
Overall, what did you think?
I enjoyed it. I liked it very much.
How does the movie compare to the book and the real story?
There were a few changes that they made. I don't think it hurt the story. A couple of things they simplified in order to tell a story in a movie: In the book, the Steve Lopez character (played by Robert Downey Jr.) in real life is actually married,and in the movie they made him separated or divorced,and his ex-wife is his boss.They were maybe looking for more of a conflict in his life.The conflict in the book was he was spending too much time with Nathaniel Ayers, the homeless musician played by Jamie Foxx.
What about the acting, who stood out to you the most?
I think anytime an actor such as Jamie Foxx portrays a musician as well as he did, and a person with mental health issues and a homeless person, it's pretty amazing. He is a classically trained musician; he spent as much time as he could learning a string instrument. The only way to do it better would be to hire a cellist to portray the character.Both the lead characters were very well-acted.
Did the music featured in the movie have a special connection with the characters?
Of course the music is integral to the plot. Jamie Foxx's character is sort of obsessed with Beethoven. Beethoven's Fifth and Ninth symphonies were featured prominently.The sound track was very good.There were some terrific scenes with the Los Angeles Philharmonic in Disney Hall. Disney Hall just opened up three or four years ago; it looks crazy from the outside.Pieces of the building look like something from a lava flow. It's a really terrific and exciting new facility. Apparently Nathan Ayers was just down the street from Disney Hall playing his shoestring violin in a highway tunnel.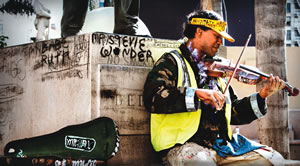 Was this movie as good as its previews made it out to be?
I think it delivered. I thought the previews were very interesting, too.They were probably the reason I wanted to read the book.
On a scale of one to four stars, what would you rate this movie?
I'd give it ★★★
To whom would you recommend this movie?
Basically to everyone.Well,I'm not sure if the very younger crowd would get as much out of it.Fans of the actors (Jamie Foxx and Robert Downey Jr.) and fans of the music would find it interesting and engrossing, especially people concerned with issues such as homelessness and what a complicated situation it is. I think the movie portrayed that very well.
Would you buy this movie on DVD?
I might, and that's saying something because there are not too many movies I feel the need to own.
What's new?
Chamber Music Hawaii has some fantastic music May 11 at the Paliku Theatre (at Windward Community College). We're doing the Bach Musical Offering,a really interesting piece Bach composed in response to Frederick The Great of Prussia.Bach not only wrote a composition, he wrote a whole series of works. Each piece is a different riddle. It's not a piece that gets performed that often either, the instrumentation varies for each section of the piece. It's a 7:30 p.m. show. For tickets, call 489-5038 or visit www.chambermusichawaii.com.
Most Recent Comment(s):