Wednesday - February 27, 2008

Movies Showtimes
Share
Richard Fikani
Distribution Manager,
Encore Bags
As Told To Kerry Miller
Where and with whom did you see the movie?
I saw it at Pearl Highlands with my two sons, Caleb and Gabriel
Overall, what did you think?
I thought it was a really good movie. You never knew what was going to happen next.
As a parent,was this movie something entertaining for kids to see?
Oh yeah, it was really fast paced with a lot of action, running around, scary creatures, a classic movie with battles - for kids they can relate to that.
Any cool special effects, this being kind of a fantasy movie?
The special effects are all these creatures and things - they would be moving around, then they would disappear. Once the kids found the book and started reading it, it had spectacles with which you could actually see the creatures and into another world. Creatures could transform into humans or monsters, or whatever form they wanted to take.The movie was kind of like they had flowers that weren't really flowers, and when the main character, Jared, played by Freddie Highmore, looks closer they were actually fairies.He really had to look close.They would be hiding.One creature was a brownie, when he would get angry he would turn green and get all mad.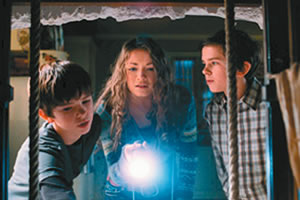 What about the storyline? Was the movie an even amount of story and special effects or was it more of one or the other?
It was evenly balanced. It's a basic story about a mom and her kids trying to get a new start after the father runs off with his girlfriend. They move into her great uncle's house who's been committed because he was saying he sees ogres and fairies.They end up finding the area where the creature hides all these items. In the old days they used to have these elevators where you pull things up.That's where the creature hides all the things he wants to take.The boy takes the elevator up and finds the book.He reads it,even though it says don't read.He reads the book and bad things start happening. It's a book of secrets.
Spiderwick Chronicles is based on a series of books by Holly Black. Have you or your kids read the books?
No, haven't read them, but I am probably going to read them now.
The movie is described as an adventure for the child in all of us. As an adult, was it entertaining for you?
You go into those movies thinking,'I'm probably not going to like this, but the kids will want to see it.'A lot of things will hit home - a lot of people come from broken homes,siblings fighting,all that kind of stuff hits home.I thought it would be fun for everybody.
Acting-wise, did anyone stand out? Was there anyone famous that people would know?
I know there were the two boys,or actually it was one boy and he was playing both parts,him and his twin brother.It was the three of them (the two brothers and their sister) that kept the movie together.
Favorite scene or character?
I think my sons liked the Thimble Jack, he was the brownie.Also, Hogsgould,a hob goblin, he would spit on your face and then you could see the creatures.You know kids, they think that's cool.
Are you and your kids fans of fantasy movies?
I think we pretty much like everything. We kind of like fantasy,Marvel, Batman, Transfomers and all that.I try to take them to all those kinds.
On a scale of 1-4 stars, what would you rate this movie?
I liked it so I give it a 4. I was entertained.
Who would you recommend this movie to?
I would recommend it to parents,people with kids. Anybody who likes fantasy.
Favorite movie snack?
We usually get popcorn and soda.
What's new?
I deal with the distribution mangament for Encore Bags.They're bags made out of juice pouches. Like ladies purses,beach bags,lunch boxes,handbags.There's two locations,a kiosk in Waikele and a kiosk at Ala Moana Shopping Center.
Next week: a new movie, a new celebrity
Most Recent Comment(s):