Wednesday - September 01, 2010
By
.(JavaScript must be enabled to view this email address)

Movies Showtimes
Share

Philip Mcnamee, M.D.
Co-Founder
Pacific In Vitro Fertilization Institute
Where and with whom did you see the movie?
I saw the movie at Kahala Theaters with my wife Carol (founder of MADD Hawaii).
Overall, what did you think?
Oh, I thought it was very entertaining. I am a big fan of Jennifer Aniston. I think she's great. The movie was a bit slow in some spots, but there were a lot of interesting twists and turns throughout. This movie does deal with my field of medicine, being in vitro fertilization. The movie does not have it quite right when it comes to the fertilization process. There is a freezing process that must occur for safety and testing purposes, but the humor is what makes the movie.
On a scale of one to four stars, what would you rate this film?
★★1/2.
Without giving away the ending, what was one of your favorite scenes?
It was pretty amusing when the switch actually occurs. There is the father, very drunk in the bathroom, he accidentally knocks the sample down the drain and is in quite a quandary, panicking a bit.
Was the message/theme clear?
The message is a woman who is getting older and wants to have a baby. That message is clear and from my point of view; it is something I work with all the time. In today's world people can freeze eggs, so they do not have to go to such lengths as in the movie or panic about their situation. The technology for this type of procedure is upon us. I have been in in vitro fertilization for many years now, so it was interesting to watch a movie like this.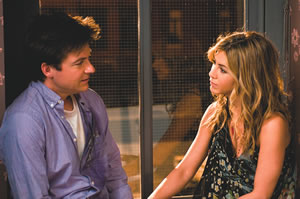 To whom would you recommend this movie?
Well, I wouldn't recommend it to younger viewers. I just don't think they would understand it. It is definitely a movie for an older, more mature audience.
Is the movie worth the ticket price?
I think so. Jennifer Aniston did a great job and the male lead (Jason Bateman) was very funny, too. It was enjoyable, just nothing I would rave about.
On a different note, what's new with you?
It was interesting to see this movie at a time like this. My company, Pacific In Vitro Fertilization Institute, is celebrating its 25th anniversary this year, and Hawaii's first IVF baby turns 25 years old this year too. It's just amazing. There have been more than 3,200 babies born through the Pacific In Vitro Fertilization Institute over the course of the past 25 years. We were the first IVF program here in the Islands and one of the first 30 in the nation. We will be having a 25th anniversary reunion luau birthday party at Magic Island in December.
Most Recent Comment(s):