Wednesday - December 22, 2010
By
.(JavaScript must be enabled to view this email address)

Movies Showtimes
Share

Yasmin Dar
KITV Social Media Reporter & Traffic Anchor
Overall, what did you think?
It was a beautiful movie set in Venice with all-star lead characters Johnny Depp and Angelina Jolie. However, I noticed the two did lack chemistry. Jolie's character, Elise Clifton Ward, had fashions that were to die for, but overall I think that was the most memorable part for me. The plot, though, was pretty predictable.
Was the message/theme clear?
It was pretty clear. The message to me was if you steal $2 million from a gangster you should make sure to spend it responsibly and hide the money wisely.
How did the movie fit its European backdrop?
It definitely showcased Venice in the most beautiful light. I almost felt like I was there. I lived in Italy once, and it just took me back to those memories. It is just stunning. The scenery, of course the gondolas, all the water shots, the hotels and resorts - everything was high-class.
Without giving away the ending, what was one of your favorite scenes?
First of all, I must mention that I love fashion, so I would have to say the most memorable scene for me was when Jolie and Depp's characters arrive at this hotel on the water in Venice. They go up to this suite and Jolie opens up the closet door - and she has arrived with nothing - and the whole suite is prepared with makeup, hair products and jewelry. Her closet doors open up and there are all of these couture gowns, shoes and more jewelry. I think I gasped in the theater.
To whom would you recommend this movie to?
I would say this movie is for those who like romantic thrillers on the lighter side. Don't expect the usual characters you see Jolie and Depp playing.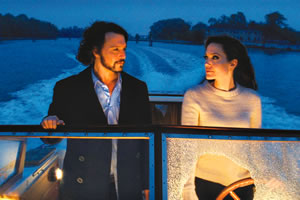 What about the acting? What did you think of Depp and Jolie?
Angelina Jolie's usual movies are her playing a Russian spy or she is an agent of some sort - and she was in this film - but she didn't play the whole action fighting role. She played a well-put-together lady throughout the entire movie. She was stunning; you just can't take your eyes off of her. I do admire her, and this role was a nice change. Johnny Depp we usually think of as Captain Jack Sparrow, a really crazy, colorful character, and this was totally opposite. He had no makeup on; it was interesting to see what he actually looked like behind all the heavy eyeliner. The character he played wasn't as out there or kooky - he was still funny, but it was very toned down. They both did a fantastic job individually, but together I felt they were trying too hard to build chemistry.
On a scale of one to four stars, how would you rate this film?
I would give it ★★ and probably wait for it to come out on DVD.
What's your favorite movie snack?
I discovered my favorite new thing at the theaters during this movie. Ward Theaters has ICEE machines, and I mixed the melon with strawberry. It was the most amazing thing I have ever had, it was so good. I highly recommend it.
On a different note, what's new with you?
I currently enjoy working at KITV as the social media reporter and traffic anchor for the morning show, and I also do reporting for the weekend morning show. I also am a professional model and actress, doing printwork and acting in major television and movie productions. In 2011, I will be teaching at HPU in the communication department.
Most Recent Comment(s):