Wednesday - July 14, 2010

Movies Showtimes
Share

Brigitte Patton & Nicole Fox
TV Personalities, Hawaii HI-Lights
Where did you see The Twilight Saga: Eclipse?
Patton: We saw it at Kahala 8 on opening night.
Before we get too far, whose side are you on?
Patton: Team Edward!
Fox: I am 100 percent Team Jacob!
Overall, what did you think?
Patton: I think it was a really great movie. It was definitely a lot funnier than I expected it to be, especially in comparison to the first two.
Fox: I liked it better than the first two, for sure. There were a lot of moments where I was literally laughing so loud that the people next to me were slightly annoyed. I think the main thing that helps it connect to so many different types of viewers are the relationships between all of the characters.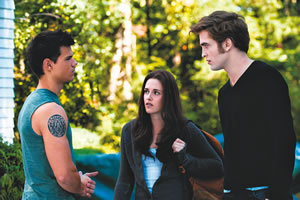 What would you rate this movie on a scale of one to four stars?
Patton: I would probably give it ★★★ 1/2, just because the hype was there and it provided what was necessary to cover in the story, but it definitely left you wanting more.
Fox: I'd go with ★★★ 1/2, because I really enjoyed it, but I wanted it to keep going when the movie finished.I don't think anything is perfection, but it was definitely a solid movie.
Did the movie's soundtrack contribute significantly to the film?
Patton: The music definitely stood out in each scene, and when I was watching this movie I was thinking, "I need to get this soundtrack."
Fox: They built the anticipation well, and it just added to the experience as a whole, eliciting an emotional response from the reviewers.
What about the acting? Did anyone stand out?
Patton: The girl who plays Edward's sister Alice (Ashley Greene) is starting to shine through a lot more, because in the first two movies she's more of a supporting character, whereas now she's got a bigger role.
Fox: I read the books first, and when the movies first came out I was so disappointed with the casting. By this film, though, I think the characters have really grown on me. The casting is standard, but it's not about the acting with this series ... it's about the story.
Was the movie as good as the previews made it out to be?
Patton: I think the parts of the previews that really got me were where they showed the other vampires that are introduced coming out of the water. They kept the previews to a bare minimum, though.You have a certain expectation, but you don't know what that's going to be.
Fox: I didn't see any previews, actually (laughs). I don't ever watch TV!
Out of the three films in the trilogy, whre does this one rank?
Patton: In comparison, I'd say this one was probably third best, because the first one obviously had to create the draw for the audience, and the second one's ending gets you more so than this one. In the third film, it's kind of a middle movie because it's helping the series get to the next film.
Fox: That's crazy! I think this was the best one,by far.It could've done better special effects than the first movie did, but I'm definitely looking forward to the next films.
On a different note, what's new with you two?
Patton: We are in the middle of airing our show, Hawaii HI-Lights, and it airs at 10:30 p.m. Sundays on KITV after the news. Our show features local people and things to do in Hawaii, from rock climbing to bar/club-hopping, so local people will like it because it features the edgier side of the state, and tourists will enjoy it because it goes more in-depth than coconut bras and grass skirts.
Fox: What's unique about the show is that I can't tell you the number of people I know who have lived in Hawaii their entire lives who have never gone and done some of the amazing water sports and outdoor activities that are available here or gone to certain restaurants.With our show, we try to draw attention to those things and showcase what they're missing.
Most Recent Comment(s):