Wednesday - April 26, 2006
By
.(JavaScript must be enabled to view this email address)

Movies Showtimes
Share

The Wild
Movie Review with Tony Silva
Da Braddahs' co-star with sons Christian and Dylan
As Told To Katie Young
Where and with whom did you see the movie?
I saw The Wild with my two sons, Christian, 7, and Dylan, 6, at Windward Mall.
Overall what did you think? What did your children think?
It was all right.
There was another film that came out last year, another animated one, Madagascar. If you had to compare The Wild to Madagascar, there was really no comparison.
Something about Pixar's Madagascar, their animation was not only more lively, but there was just something missing with The Wild.When I asked my children what they liked about the movie, they didn't have much to say - nothing really stuck in their heads except for a scene with some animals dancing on a boat.The movie wasn't as colorful. It was more adult-minded. Honestly, I thought I heard more adults laughing than children. I know a lot of it went over the kids' heads.
What was your favorite scene?
There was a scene inside of a volcano and there are a bunch of wildebeest and they're complaining about being at the bottom of the food chain.They capture the koala bear who came to Africa from the zoo and think that he is their leader who can help them get what they want.
When the wildebeests first bring the koala into their domain, they open up with a full choreographed dance routine.That's the last thing you would expect.The kids liked that part too.
Did you have a favorite character?
I thought the characters that really moved the picture were the koala bear and the squirrel.They grounded the movie and kept it moving.The comical relief came from them.The squirrel fell in love with the giraffe, so that was an ongoing bit.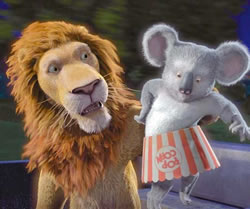 How would you rate the acting and animation?
I think they really fell short as far as capturing the kids' attention.And having two boys ... I'm not saying they were bored, but they weren't as interested in the movie as they could have been.The animation wasn't quite there.The voices were pretty good. But I didn't think the animation matched up.
Did the movie have a meaning?
The deeper meaning was to not be hard on your kids. Of course I asked my kids what the meaning was and they said,"I don't know." But at the beginning of the movie the father is trying to get his son to roar and the son can't do it.The son feels pressured by his father. It turns out the dad wasn't being truthful with his son and only pretended to be from "the wild."
I guess the lesson is to be truthful with your kids and don't be so hard on them.You want them to follow in your footsteps, but you have to be on the up-and-up.Allow kids to make mistakes; that's part of growing up.
To whom would you recommend the film?
If people haven't seen Madagascar, then go for it, watch The Wild. But if they've seen it, it's a tough sell. People will naturally compare it.This one kind of falls short. Or, this would be a good film for people who don't have anything else better to do with their kids.
On a four star rating, with four being the highest what would you rate the movie?
Two stars , and that's being generous.
What's your favorite movie snack?
Popcorn and kaki mochi. My kids like that too, and one also likes Cinnabon and the other one likes Icee.
Who's your favorite actor/actress?
It's a split between Tom Hanks and Robin Williams because they're so diverse. Even though they come from a comedy background, their roles are so well-rounded and that's tough. Because they have great comedic timing, they know how to be natural or even sinister without overacting.You're not going to find too many dramatic actors doing comedy bits.
What's new?
We're in our sixth season with Da Bruddahs & Friends, and we're having fun working and making people laugh.
We're busy right now.The next performance for us is a Mother's Day concert at the Raddisson Waikiki Hotel. Brunch starts at 10 a.m.You can also see our new season of Da Bruddahs & Friends (16 new episodes) premiering April 24. We're on OC-16 at 9 p.m. Monday, Wednesday,Thursday and Friday.
Next week: a new movie, a new celebrity
Most Recent Comment(s):