Wednesday - December 15, 2010
By
.(JavaScript must be enabled to view this email address)

Movies Showtimes
Share

Justin Ridgely
Owner, Volcanic Rock Gym
Where and with whom did you see the movie?
I saw it at Kahala Theaters with a friend of mine from the gym, Phil Langford.
Overall, what did you think?
It was very entertaining for a documentary. It definitely kept your attention. As a climber I felt that it left some elements out, but I completely understand that it is directed toward a general audience and they might not understand those concepts.
On a scale of one to four stars, what would you rate the film?
★★★.
As a rock climber, was the movie accurate?
Normally, when you are climbing mountains like that, you are placing gear and you are placing protection. You kind of see them doing it, but they do cut clips of that out. There is a specific scene where Conrad Anker is freeing one of the higher steps and the film makes it appear that he is climbing without any protection. Other than that, it was pretty informative and accurate. It was definitely a good mix seeing an accomplished climber like Conrad Anker matching up with a younger climber like Leo Holding, who is absolutely crazy and is known for being a little bit nuts and not having the best judgment.
Without giving away the ending, what was one of your favorite scenes?
When Leo Holding was seen climbing without ropes. He was free climbing a section in England; that scene was pretty amazing. You definitely feel everybody's jaw drop because he is so high, putting his feet above his head.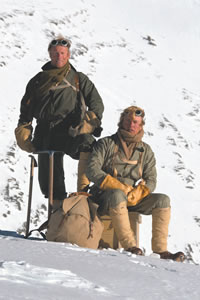 To whom would you recommend this movie?
Climbers and mountaineers, of course. The general public would get a lot out of seeing it. It definitely goes pretty far in depth of what happened and what could have happened. I went into it having read Jon Krakauer's Into Thin Air years back and it kind of touched base off of that.
What about the acting, did anyone stand out?
Liam Neeson did a great job as the narrator, he hit that pretty well. It didn't really seem like you were watching acting. It felt like you were just watching scenes and action taking place.
What about the cinematography?
It definitely made you want to get out and see these environments. It is very rare to go places now and not see other people there or anything man-made in landscapes. I've been on climbing trips to Peru and other places, and it seems you have to coordinate your camera angle so you don't include the man-made. In the film, it just seemed you could take a picture and there would be nothing else there except clouds and the natural landscape, so that was pretty impressive.
Did you identify with any of the characters?
In my future as a climber, Anker is who I plan to be. Right now I mainly boulder, which consists of stronger, more powerful moves, but they are harder on your body. At a certain point if I am no longer able to climb at the level that I am at now, I would still like to be in the mountains, being able to enjoy it. It is something to look forward to, knowing there is something afterwards.
On a different note, what's new with you?
We are pushing pretty hard at expanding the gym. Through Dec. 16 we have three professional climbers coming to Oahu to help push Hawaii climbing and the climbing community here. The climbing community has grown so much in the past year in Hawaii. It isn't because there was a lack of people, it is just that we have all come together a lot more now. The gym has become a good place to meet and for new climbers to come and experience climbing. It is a place people can come in to enjoy and share their love for the sport of climbing.
Most Recent Comment(s):