Wednesday - March 28, 2007
By
.(JavaScript must be enabled to view this email address)

Movies Showtimes
Share

TMNT
Roy Chang
Cartoonist/Art Teacher
As Told To Melissa Moniz
Where and whom did you see the movie?
I saw it at Dole Cannery surrounded by a lively audience of parents and children at a special advance screening. KCCN FM100 was doing preshow contests,giving out TMNT prizes and getting mobbed by little kids.
Overall what you think of the movie?
I really liked it. I remember how the early cartoons and live action films were more slapstick,full of pratfalls,spinning pizzas on a finger and "Kowabunga, dude!"This film follows the trend of Batman Begins and Casino Royale, where if your film franchise loses its focus,get back to making your story and characters serious.With all the overly cute computer animated films in recent years, this carries weight with both story and message.
What do you mean by message?
Well,the story runs bilateral.In one,a wealthy and powerful business tycoon named Max Winters is suffering the consequences of immortality and a curse he brought upon himself 3,000 years ago as a heartless warrior king. In the other,the turtles have gone down different paths and must learn to work as a team again.The film can really teach children about self-control,teamwork,leadership,honor and that it's never too late to change.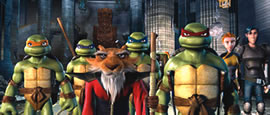 Of the four turtles, who was your favorite?
That's a great question to start a conversation and arguments.I believe to truly understand the Teenage Mutant Ninja Turtles, one cannot have a favorite because they work as one. Splinter, their sewer rat father, explains that they cannot fight in the world above until they work as a team. I think each turtle represents a side of all of us.Leonardo,the leader, represents our mature leadership side.Raphael, the hot-head, is our emotional and compulsive side. Donatello, the tech-savvy inventor, is our intellectual and logical side. And Michelangelo,the silly one who does children's parties disguised as a ninja turtle,represents our childish,playful nature.Imagine having one of those aspects missing, or even too much of one side.That's not good.When fighting together, they are a team to reckon with. If I were the fifth Ninja Turtle, I'd use my bullwhip as my signature weapon.
Was there a scene that stood out?
Two.The kids and I laughed a lot during the fight scene with the Jersey Devil beating up Raphael in the kitchen of a diner.The second best scene is where Leonardo and Raphael finally fight it out over who's in charge of the team. It's very dramatic and emotional for animation.It's a rooftop fight in the rain and the visual effects were astounding.
How was the voice acting?
I stayed throughout the end credits to see who were the voices. Sure enough, Patrick Stewart was the actor doing Max Winters. He was great. I'm happy Mako and Ziyi Zhang did the Asian-inspired characters rather than having someone do an "Asian" accent. Mako has a natural manner of talking that matched wonderfully with Splinter.The movie was dedicated in his memory.
To whom would you recommend this film?
Any TMNT fan since its creation will love it. One of the original creators is the producer. Kids will love it and parents will be entertained as well.Bonus for them if they talk to their children about the meanings of the film rather than taking them straight to the toy stores.
In a four star rating, with four being the highest, how would you rate it?
I'm going Four Turtles - four stars.That night at home I took out my old pair of sai (the weapon Raphael uses) to practice spinning it around. Only poked myself once.
What's your favorite movie snack?
I don't eat or drink or even sneak food into theaters.
Do you have a favorite movie?
Well,in staying on the theme of animation, I love Hayao Miyazaki's Spirited Away from Japan. One film I can watch over and over is Mel Brook's Blazing Saddles.
What's new?
I'm on spring recess from teaching art at Aiea Intermediate School.My students have works on display at the state Capitol in Sen. David Ige's office as well as at 1132 Bishop St. in the Scholastic Art Exhibit.
I'm finishing a manuscript and art to submit to a publisher.
Right now I'm stoked to be going back to San Francisco again this summer for some new goofy adventures.I went there last year and wrote a travel article about it, which ran in the Star -Bulletin.
Most Recent Comment(s):