Wednesday - February 03, 2010
By
.(JavaScript must be enabled to view this email address)

Movies Showtimes
Share

Chris Lee, D.D.S.
Pediatric Dentist, Children's Dental
Where and with whom did you see the movie?
I saw it at Ward with my family and a few friends.
Overall, what did you think?
It was really funny, and I thought it was a pretty good spin on the whole Tooth Fairy thing.
How was the acting? Did anyone stand out?
Well, obviously, The Rock (Dwayne Johnson) was the most standout character, since he had the lead role, but Julie Andrews was pretty good as well. Her role was pretty interesting.
On a scale of one to four stars, what would you rate this movie?
I'd give it ★★★ because I thought it was really good, and it was good timing with my kids, since my son is 4 and my daughter is 2. I also found that I laughed a lot during the movie as well.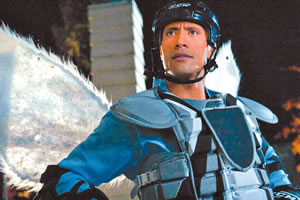 To whom would you recommend this film?
I'd recommend this to families with kids for sure. It's pretty good for little ones, I think. I don't think it'd be a really good date movie or anything, obviously, though (laughs).
Did Tooth Fairy remind you of any other work in film?
I know there was another Tooth Fairy movie a while back that I can't remember the name of right now, but this one had some really interesting spins on the whole Tooth Fairy concept that I hadn't really thought of before.
Was the movie's theme/message clear?
The whole movie, I guess, is about The Rock's character not believing in anything, and as his punishment he has to be the Tooth Fairy for about two weeks or so. It just focuses on helping children see that it's always good to have something to believe in.
Without giving away the ending, what was one of your favorite scenes and why?
(Laughs) Well, as an adult, there was one part where there was this special amnesia powder or dust that, when thrown on somebody, erases their memory from the past few seconds or minutes.Well,The Rock uses it on his girlfriend (Ashley Judd) at one point because he always says the wrong thing - he'd get a bad reaction from her and use it over and over like seven or eight times. That was pretty funny. (Laughs) I think a lot of guys can kind of relate to that, like, "Can I get a do-over?"
What did you think of the cinematography?
Honestly, to me, it definitely looks fake when he is flying. They kind of make it like he doesn't know how to fly or doesn't fly very well, but you can just tell he was suspended by cables and you could just see that it was really fake.
On a different note, what's new with you?
I stay pretty busy with work, and we always welcome new patients here at Children's Dental Associates (1314 S. King St., Suite 618). We specialize in quality dental care for infants, children and adolescents, so give us a call at 596-9889 or visit us on the Web at http://www.Keikismiles.com for more info.
Most Recent Comment(s):