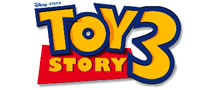 Wednesday - June 30, 2010
By
.(JavaScript must be enabled to view this email address)

Movies Showtimes
Share

Where and with whom did you see the movie?
I took my mom to see it with me at Ward Consolidated Theaters' new Titan Extreme Cinema (Titan XC) in advanced 3D and Dolby Surround 7.1.
Overall, what did you think?
Excellent film! Even if it wasn't in 3D, the story and animation hold strong on their own merits. I could tell that a lot of love and effort went into this more than other recent animated films. Plus, this was my first time seeing a feature film in 3D.
On a scale of one to four stars, what would you rate this film?
★★★★ to infinity and beyond!
Was the message/theme clear?
In this film,Andy is grown up and going off to college and parting with all his beloved toys. I think for 7- to 8-year-olds who saw the last film about 10 years ago, now it's their time to reflect. I see this film as a love story, though there is no romance. Love sometimes involves letting go, making sacrifices, friendship and giving worth to others. When the toys were donated to a day care, they just got smashed and tossed around like nothing. The most emotional and significant scene is when Andy is introducing each toy to a little girl named Bonnie and she learns about each char-acter's significance and meaning. As grown ups, we tend to toss our expectations to the younger generation to know and take care of, but we don't pass things on in ceremony of significance so that values and responsibility are transferred as well.
Without giving away the ending, what was one of your favorite scenes?
I have a DVD about the Ghibli Museum in Japan, and Pixar's John Lasseter is in an interview taking about anime and Hayao Miyazaki. There's a cameo anime toy character in Toy Story 3 which I thought was a hilarious sight What did you think of the animation?
I think the bar has been raised for other studios to follow.The physical movements, textures and expressions take on a life of their own.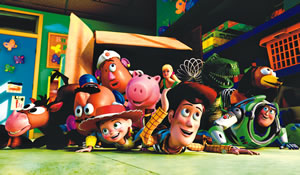 Did the soundtrack contribute significantly to the film?
You Got a Friend in Me by Randy Newman bridges this film to the last two, and the rest of the music works fine, especially when Ken puts on a fashion show for Barbie.
Did it hold up to the previous two Toy Story films?
OK, I'll be honest. I never saw the first two films. This third film clearly explains the previous two and is set perfectly apart in time.
To whom would you recommend this movie?
Seven-year-olds and up. Some danger scenes may be too scary for little ones and "prison escape" plots may elude children. Adults will enjoy the layers of humor and there's no "sugary sweet" cartoon stuff, which I hate.
On a different note, what's new with you?
I'm finishing teaching a cartooning classes at Aiea Intermediate School's summer academy. Kids created their own characters, story plots and hand-painted cels. Also I'm finishing the comic art for my first novel. A publisher accepted my manuscript and hopes to get the book out in 2011.
Most Recent Comment(s):