Wednesday - July 18, 2007
By
.(JavaScript must be enabled to view this email address)

Movies Showtimes
Share

Transformers
Creed Chameleon
Entertainer
As Told To Melissa Moniz
Where and with whom did you see the movie?
I just went by myself at Kapolei.
Overall what did you think?
I thought it was really good.How they depicted it from the cartoon was pretty good.They actually made it modernized, so it wasn't corny like they usually do renditions of comic books and things like that.They were pretty much on it with Transformers.
Were you into Transformers when you were a kid?
Oh, yeah, it was actually one of my favorites.I had most of them.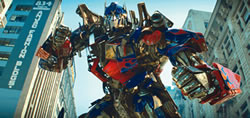 Did the characters stay true to what you remember them to be?
Yeah.
What did you think about the filming and overall feel of the movie?
I thought it was really good. I thought that (director) Michael Bay did a great job and I think Steven Spielberg was a part of it. How they made the robots and how when they transform into their cars,they actually use the same sound that they used in the cartoon.
Do you think that the characters were overthe-top?
The only thing that was different that they did is Megatron doesn't really transform into a plane in the cartoons. In the original cartoon he used to transform into a gun.It's pretty much on-point because the voice of Optimus Prime, it's the same guy who did the voice for the cartoon. What I like about it, too, is that even if you're not a Transformers fan you can get down with it. It's a great film.
Would you recommend the film for kids to see or is there a little too much violence?
It's PG-13,so they do say some swear words, but I'm going to take my son to see it because he is a Transformers fan. I think it should be fine - there's no blood, guts or anything like that.But I guess the extremity of how big these robots are and how they fight is kind of crazy, but nothing really bad.
What did you think about the fighting scenes?
I thought the fighting scenes were great. Five minutes into the movie already it was interesting. I couldn't even get out of my seat. I had to hold myself to not even use the restroom - it was that intense.
How was the music in the movie?
Like Bumblebee, when he would try to make on a chick and he would play slow music and play like Baby Come Back, I thought that was pretty funny. And you know the one thing about the movie that I liked is that the humor wasn't corny.
Did the movie end leaving you thinking that there's going to be another sequel?
Oh there's definitely going to be a sequel. Megatron doesn't die that way.There's going to be a sequel if they have enough budget.
There was a lot of hype about this movie. Did you go in with high expectations?
You know what? In lots of movies I've had high expectations and when I watched it it wasn't that great. But this one I was like,I don't know what to expect, but when I watched it, it blew me away.
On a four-star rating with four being the highest, what would you rate the film?
I'll say four stars.I recommend it for everyone to watch.
What's your favorite movie snack?
Popcorn with the hurricane mix.
Who is your favorite actor/actress? I've gotta say Johnny Depp.
What is your favorite movie of all time? The Crow.
What's new?
Just working on my next album and I'm signed under SIQ Records,and people should check it out.
Next week: a new movie, a new celebrity
Most Recent Comment(s):