Wednesday - July 08, 2009
By
.(JavaScript must be enabled to view this email address)

Movies Showtimes
Share

Kanoa Leahey
KHON Sports Director
as told to Melissa Moniz
Where and with whom did you see the movie?
I saw it with our weathercaster Justin Cruz at Dole Cannery's IMAX screens on the first full day it came out.
Overall, what did you think?
I'm a big Transformers fan from when I was a little kid. I had all the action figures that I could possibly beg my parents for, and I watched all the cartoons. I remember when I was about 8 years old Optimus Prime gets killed in one of the shows, and I cried for like a week. So I'm a huge fan.
The first Transformers movie was great. It hit all the right notes, but this one I was a little disappointed in simply because I felt it was just too over the top.
It was kinda like when you eat a delicious scoop of ice cream, so the next time you order three scoops, but after you're done with it you realize that it's just too much. And I think this movie was kind of like that. The special effects were incredible, and everything possible blew up. But I just thought it went top-notch level on action, special effects and plot twists, which I think created a bit of a disconnect in the storyline. I felt that because everything was pushed to the highest degree, that it took away what made the characters in the first movie pretty endearing. I felt that the characters changed because of the way they were trying to manipulate the story.And I didn't find myself connecting with them on the same level. So it just didn't work on the same levels that the first one did.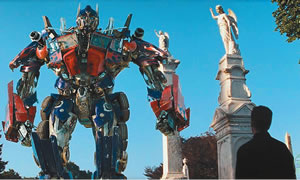 Did the movie wrap up nicely, or do you think they're planning on another sequel?
They definitely left it open for another Transformers movie. It wasn't a cliffhanger, but they did leave the door open.
If you could make changes to improve the movie, what would you suggest?
It was a long movie, so that could be a minor change. But I thought they could have come up with a better way to play out the new plot. I think they tried to throw a lot of things in there, and a lot of it came out of nowhere. So I wish they did a better job conjoining this movie's plot to what we saw in the first one. But, with that said, it was visually and audibly stimulating. So if you're going to a movie to just see a spectacle, then you'll probably get something out of this movie.
On a scale of one to four stars, what would you rate this movie?
★★. I think the special effects save it because it's nothing like you've ever seen before.
Favorite movie snack?
I am a popcorn and kaki mochi guy. And when I'm feeling really daring, then I like to throw in some peanut M&Ms as well.
What's new?
Still working at KHON as the sports director.That has always kept me pretty busy, and I also continue to do Leahey and Leahey with my father on PBS.And I have my radio show on AM1500. And we're getting ready for football season. Summertime is our chance to catch our breath a little bit before football season starts because once that starts it's fast-paced and crazy. And that's sort of when the sports world gets lit afire again.
What's your favorite sport?
Basketball. I've always loved playing it and watching it. I still attempt to play it. But I limp away a lot more often than I ever did before.
Most Recent Comment(s):