Wednesday - August 27, 2008
By Kerry Miller

Movies Showtimes
Share

Augie T
Radio personality (93.1 FM) and comedian
Where and with whom did you see the movie?
I went to see it at Kapolei with my brother-in-law Rusty Chase.
Overall, what did you think?
Excellent movie, excellent.
What about the acting, did anyone stand out?
Robert Downey Jr. I have to say he was being absurd. Tom Cruise, you never know he was Tom Cruise until 10 minutes into the movie. It was convincing.
Did Ben Stiller, Jack Black and Robert Downey Jr. make a good comedy team?
Great, some of the dialogue they had was the best, perfect.They did a lot of stuff out of character. I'm a big fan of Robert Downey Jr, Stiller, Jack Black. With Robert Downey Jr, oh gosh, a good show.
What about the movie's storyline, was it believable?
It was very believable. Just, you know, it was so absurd. The opening, they did a commercial before they did a trailer. It was non-stop laughing from the very beginning.
Would you take your kids to see this or is it more of adult humor?
Adult. Maybe if your kids are juvenile delinquents you could take them.
On a scale of one to four stars, what would you rate this movie?
★★★ 1/2 easy.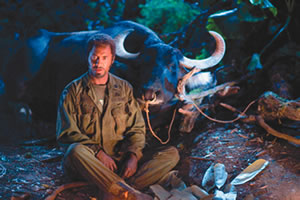 To whom would you recommend this movie?
Guys who want to get away from their wives to laugh. There's a lot of swearing, genitalia jokes, a lot of macho-ness. Unless your wife's Sasquatch, then maybe.
It's definitely a boys' film.
Favorite movie snack?
I like to eat popcorn from the people sitting in front of me. Of course, the food I sneak in. I bring in watermelon and pizza.
What's your favorite type of movie?
I like all types of movies. I love documentaries.
How often do you go to the movies?
You know, I go to the movies when I get the chance 'cuz of my busy schedule.
What's new?
I'm at the Pagoda Hotel every Friday night. Tickets are $15; show starts at 8:30 p.m.
Of course on 93.1 The Zone in the morning.
On Aug. 31, the Wild Wild West Comedy Show is at the Makaha Resort. I've got to bring my Tropic Thunder to Waianae.
Most Recent Comment(s):