Wednesday - January 05, 2011
By
.(JavaScript must be enabled to view this email address)

Movies Showtimes
Share

Rick Hamada
'MidWeek' columnist and KHVH 830 AM radio host
Overall, what did you think of the film?
First of all, I never saw the original, so I didn't have anything to compare it to. I liked it because I love the Coen brothers (directors). I liked the style of the film and thought the visual work was fantastic. It was a traditional revenge story line with a cool mix of characters, and the way they played that out I really enjoyed.
On a scale of one to four stars, how would you rate the film?
I give it ★★★ because it was a little slow, as it plodded along in the middle, but other than that it deserved a strong ★★★.
Do you think the message or story of the movie was clear?
The message was very clear because it was a revenge film. The character who drove the entire film was Mattie (Hailee Steinfeld); she was the universe of the movie. It was her drive for revenge for her father's death that was clearly the message.Also, the relentlessness coming out of a girl who was 14 years old and kind of flipped back and forth from being an honorable girl to a hardened woman, even to the point of taking on characteristics of a man, I thought that was a great sub-plot.
Was there a particular scene that stood out for you?
The scene when Mattie gets snake bit and Jeff Bridges' character Reuben "Rooster" Cogburn, as the title explains "true grit," it would have been easy for him to just go through the motions and really not try to save her, but he did everything humanly possible to get her help.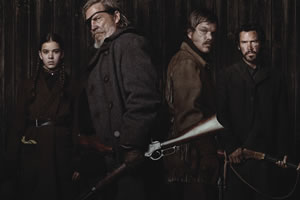 What about the acting? Did anyone stand out?
Hailee Steinfeld, who portrayed Mattie, was phenomenal. I am not sure if she is even 14, but she played that role extremely well. She was incredibly believable, and I think she is going to be a remarkable star because of this movie.
I thought Jeff Bridges was excellent. I kind of wish that the Coens wouldn't have graveled up his voice as much. It became almost a caricature of what his character truly was. If they played it straighter, the character could've been a touch better.
Honestly, Matt Damon was just kind of lost in all of this.There wasn't any real presence when he was on screen. I didn't really get a sense of why he was cast other than that Matt has been at it a long time and he stands to make some money.
What type of audience would you recommend this movie to?
It is not so much a date movie, but I am going to have to go with the fellas.
This is really a guys' film, even though the central theme is a young girl, because it has all the themes of revenge with the battle of good versus evil.And the standoff between Cogburn and the four horseman, that is machismo - nothing but testosterone flying out. I think the western-style theme gears it toward an adult male.
On another note, what is new with you?
I'm about ready to start my 17th year with KHVH radio as a talk show host, and I am now going into 13 years at MidWeek with my column.
I have started a new segment on my program called "The Good Life," which is a Friday morning segment that celebrates everything that is the good life, including exotic cars, fine dining or travel destinations, and I am really excited to get going with that.
Most Recent Comment(s):