Wednesday - March 04, 2009

Movies Showtimes
Share
Bobby Duncan
Comedy Crusaders Improv Troupe
as told to Kerry Miller
Where and with whom did you see the movie?
I went to see it by myself to the Dole Cannery.
Overall, what did you think?
I did like the movie, it was very enjoyable. It was basically two movies in one - there were two storylines going on and, in the end, they bring the two storylines together - one was comedic, the other was of a serious nature. You would be laughing and then all of a sudden you were crying, and you wanted more of the other.
They kept flipping back and forth. They focused more on the dramatic part than the comedic part.
Have you seen any of the other Madea movies? If so, how does this one compare?
I have, one of the first ones. This is probably one of the better ones.
Do you think people should see the previous Madea movies to understand this latest chapter?
No, not at all. You could see this as a stand-alone movie - it has its own plot, its own characters.This would make you want to go see the others.
As someone in the comedy world, for you how funny was this movie?
I would say it's like about an eight (on a scale of one to 10). With comedy in Hawaii, there's a difference between local humor and mainstream humor - locally they will definitely enjoy the humor in this movie. It's more of a slapstick comedy.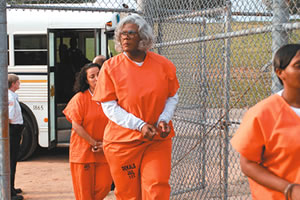 What about the acting, did anyone stand out?
Acting on all parts was great.Who surprised me in this movie was Rudy on The Cosby Show (Keshia Knight Pulliam). She plays a prostitute; she did a phenomenal job. She'll make you cry in this movie.
Which was one of your favorite scenes or characters?
Pulliam, because you felt her pain in terms of the dramatic part. In terms of the comedy part, definitely Madea (Tyler Perry).
On a scale of one to four stars, what would you rate this movie?
★★★ 1/2.
To whom would you recommend this movie?
Definitely it's a film that would appeal to any age group, like PG-13 up to 50s, 60s, all ethnicities.
What's new?
We are performing every Friday at The Living Room at Fisherman's Wharf. The preshow is 7:40-7:55 p.m., the actual show is 8-9:30 p.m. We debuted for 106 people there, which is great.
Our name,Comedy Crusaders,is about doing crusades for different causes.We are working with The Wound, Ostomy Incontinence Nurses Society-Hawaii Affiliate and Shriners Hospital.
Comedy Crusaders is hosting an event on March 14, "Special Buddy Connection," donating our time to make these children laugh, bring humor into their life. It's going to be at the Ohana Airport Hotel.
Call 342-2292 or visit www.freewebs.com/comedycrusaders.
Most Recent Comment(s):