Wednesday - June 10, 2009
By Kerry Miller

Movies Showtimes
Share

Jamie Jeffryes
President and Owner of Hawaii Balloon Company
as told to Kerry Miller
Where and with whom did you see the movie?
We saw the movie at Ward 16 with my wife Leslie, my son Jonathan and two neighbor twin girls. There was like 12 of us.
Overall, what did you think?
I thought it was great.
Did you recognize any of the actors who did characters' voices?
I read the synopsis, so I knew Ed Asner was doing the voice of the old man. John Ratzenberger did a little cameo; he was like a security guard. All the rest of the people were new, fresh voices.
What did you think of the animation?
It was typical wonderful Disney animation. We saw it in a theater where we didn't see the 3D.
How would you describe the story? Was it kid-friendly?
I had mixed feelings about it.The beginning, when they were doing the character development of the old man,was really dark.They quickly got through it in like six or seven minutes. As a boy, he meets a girl and one catastrophe after another happens in their life, and (years later) they show her in a hospital and she's crying.They buy these tickets to South America, and they go hiking. She can't make it up the hills, she's too old, and next they show he's alone. It set the story for why this old guy is the way he is.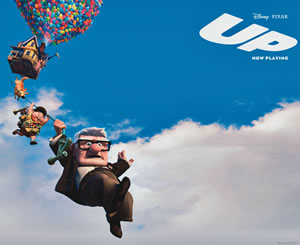 Then the rest of it's like fun animation. He meets this little boy.The whole movie is about doing something with your life that you always wanted to do.
There were so many things in that movie that were so close to home.We did the balloons for the premiere. He (the old man character, Carl Fredricksen) was a balloon man his whole life. He ends up meeting Russell, the wilderness adventurer. He's trying to get the old man to help with his last badge, and I was my son's Cub Scout leader.
The whole "up" part of it is really small. He ties hundreds of balloons to his house, and his house uproots and he goes to South America. Being the balloon professionals that we are, none of that balloon part was realistic at all. Disney makes you believe that it's real.
Did you have a favorite scene or character?
The dogs in the movie have to be the highlight. I have a golden retriever. The adventure guy in South America has dogs, and has a leash that translates their barking into talk.
On a scale of one to four stars, what would you rate this movie?
★★★ 1/2.
To whom would you recommend this movie?
I would recommended it to kids over 3 or 4 and all the way up to adults.The youngest kids might be a little afraid.
What's new?
Our newest project was doing 214 three-foot balloons to try to lift Ward Theatre off the ground for the movie Up (laughs). It's grad season.We're totally slammed and it's a fun time of year for us. It's a family business - I run it with my wife and son. wwww.hawaiiballoon.com.
Most Recent Comment(s):