Wednesday - February 24, 2010
By
.(JavaScript must be enabled to view this email address)

Movies Showtimes
Share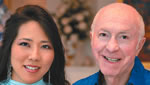 Al Masini & Charlyn Honda Masini
Charlyn: TV Editor
Al: Creator, Entertainment Tonight and Star Search
Where did you see the movie?
Al: We saw it at Kahala, just the two of us.
Overall, what did you think?
Al: For us,every day is Valentine's Day (that's how we approach our marriage) and it was fun to see a movie that really focuses on that particular day. I thought it was a light, fun, star-studded movie, and really perfect for Valentine's Day.
On a scale of one to four stars, what would you rate this film?
Al: I would give it about ★★★, because it's an interesting intersection of all different kinds of people of all ages experiencing all types of love, and it all takes place within the 24 hours of Valentine's Day.
Charlyn: It's like Valentine's Day in a nutshell.
Al: (Laughs) It's like love in a nutshell.
How was the acting? Did anyone stand out?
Al: Usually when you have so many stars - there were 20 stars and 12 different stories - you would think that some of them are just there to make an appearance, but each one had a very distinctive role and really contributed to the film.
Charlyn: Yes, but I'd say Ashton Kutcher and Anne Hathaway stood out the most.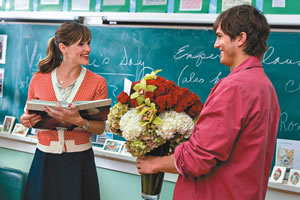 Do you think this film will stand the test of time?
Al: I don't think it will ever be a breakthrough movie or a classic, but despite all that you really did feel the emotions of all the characters. You could've taken any one of these stories and made a whole movie of it, but by representing all of the different types of love, it really represented the day in itself.
Charlyn: There are so many different ingredients, so many little things that just made this movie really light and fun. Lots of little surprises!
Did this movie remind you of any other work?
Al: It was similar to Love Actually, but here they pulled it all together and really represented the day itself instead of just one or two stories.
Were you able to identify with any of the characters?
Al: (Laughs) If you go through your life and say,"Did I have a crush?" the answer is yes. "Did I try to go to bed with someone?" Yes. "Did I experience unrequited love?" Yes."Did I get dumped?"Yes. I think it's really a personification of the different types of love, and if you've lived a pretty full life,then you've most likely experienced most of those portrayed in this film.
On a different note, what's new with you two?
Al: We've been to L.A. three times in the last few months and we've got two projects - two TV series - that we're working on there, and if those get picked up that would be great. I'd really like to develop a project though that would allow me to not have to leave Hawaii. We just want to stay here!
Most Recent Comment(s):