Wednesday - September 21, 2011
By
.(JavaScript must be enabled to view this email address)

Movies Showtimes
Share

Mike Cherry
Sports Anchor
Hawaii News Now
Overall, what did you think?
Honestly, I went to Warrior with low expectations, thinking the entire time that I was about to see The Fighter part II. But I was pleasantly surprised. The only similarities Warrior has with The Fighter is that both sets of characters have flawed families who they attempt to reconcile with.
Nick Nolte's performance was great. His portrayal of a broken down recovering drunk seeking forgiveness from his two sons could get him an Oscar nomination.
And of course, the fight scenes were shot extremely well, which gave some instant credibility to the flow of the movie.
On a scale of one to four stars, what would you rate this film?
On a scale of one to four ... I'd say it deserves a ★★★1/2 rating.
Was the message/theme clear?
The theme of this movie was clear as day: a family broken apart by a troubled past gets a shot at redemption when the stars align just right.
The only part left in the air is whether or not the two brothers (Tom Hardy, Joel Edgerson) will be able to resolve their personal differences. Brothers Tommy (Hardy) and Brendan (Edgerson) have years of pent-up frustration toward one another and the only thing the two siblings have in common are that they hate Nolte's character for being a lifelong lush.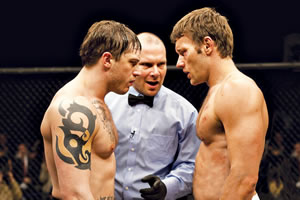 Did you identify with any of the characters?
Thankfully, I don't really identify with any of these crazy characters personally, although watching the two train, I'd like to hope I could whip my okole into shape and turn my keg into a six pack.
Did it remind you of any other work in film?
Midway through the movie, the combination of great action sequences and some deep dramatic confrontations reminded me of Miracle. Come to find out, it was the same director (Gavin O'Conner).
To whom would you recommend this movie?
I would recommend this film to anyone who loves sports movies and MMA, but I think it's one of those films that even if you're not into MMA at all, you can still get lost in the plot and story line.
Would you buy this movie when it comes out on DVD?
I'm not sure if I'd drop $20 on the DVD, but if someone were to give me the DVD (hint, hint) then I would definitely watch it again. It's a very enjoyable film.
On a different note, what's new with you?
It's football season, so my schedule has gotten a little hectic again.
Chris Tanaka and I have been working hard on the revamped Coach Mack Show (Sundays at 10:30 p.m. on KGMB) and following the Warriors everywhere they go on the road this season.
Other than that, I just try to get back to Maui as often as I can, because there's no place like home.
Most Recent Comment(s):