Wednesday - March 18, 2009
By Kerry Miller

Movies Showtimes
Share

Kavet The Catalyst
Hip-hop DJ, emcee and producer
As Told To Kerry Miller
Where and with whom did you see the movie?
I went to the Pearl Highlands with my wife, Chelsie.
Overall, what did you think?
I think it was a good movie straightaway, from the typical bad-guy/good-guy story-line which has been a Hollywood cash cow - like Batman, The Hulk.The average person who doesn't know anything about these guys would like it for the effects, but the overall tone is pretty serious.
What about the acting, did anyone stand out?
I think the guy who played The Comedian was really good (Jeffrey Dean Morgan). He's one of the main characters, one of the older superheroes that spanned two generations of superheroes. His acting was really good.
Have you read the graphic novel Watchmen, on which this movie is based?
I only heard people talk about it. I've never, ever picked it up. I figured I'll just go in there untainted.
After seeing the movie, would you read the novel?
Definitely. I liked how they had it in the era between Nixon and Reagan. Normally they do futuristic, past or present times (when a movie is set).This was a weird time for America; nobody ever did a movie about superheroes back then. Usually you're thinking about a futuristic alternate universe. It was actually early '80s.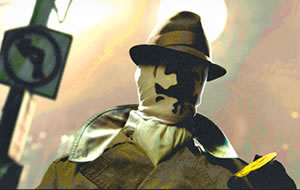 Did this movie remind you of another work of film, perhaps another superhero story? If not, how was it different than other superhero movies?
Not really, it was definitely original. Nobody had any X-ray vision or lasers or crazy powers. Everybody who was a super-hero had fighting skills, nothing crazy.
Did you have a favorite scene or character?
His name was Rorschach, a small guy. He wore a mask that had ink stains on the front. He was like the ultimate good guy.
When he was in jail was the best part, how he just handles everybody in the jail cell. He journals, it's interesting the way he writes in the journal. Otherwise, nobody really made me get on their side. It was like they were all trying to do good, but they all had their own vision of how they were going to come across doing the good. It was a really twisted, intertwining story with all the characters.
On a scale of one to four stars, what would you rate this movie?
I really like this movie now that I'm talking about it. I would say it's ★★★ 1/2.
To whom would you recommend this movie?
It's appealing to an older crowd, or an older crowd that likes comics, people who enjoy really well-written scripts and stories.
What's new?
I'm a DJ, emcee, producer, that whole gambit of hip-hoppish thing. On April 11 at The Loft I have the Beatroot Grand Championships from 9 p.m. to 1:30 a.m. We held six preliminaries through last year; this is the finals for the six competitors who made it. It's a producer's beat battle: Each comes with a two-minute beat, they go head-to-head and they battle each other. There are three judges. It's $5 pre-sale or $7 at the door. You can get tickets at Easy Music Center or lightsleepers.net.
Most Recent Comment(s):