Wednesday - February 20, 2008
By Kerry Miller

Movies Showtimes
Share

Sweetie Pacarro
KSSK Radio, Producer for Perry and Price
As Told To Kerry Miller
Where and with whom did you see the movie?
With my husband, Brad, and my daughter Courtney at the Pearl Highlands Theater.
Overall, what did you think?
It was fantastic, funny. We laughed through the whole thing.
You're a TV/radio personality. Did you think that Martin Lawrence's character was portrayed accurately as a TV talk show host?
They portrayed Hollywood just as Hollywood is.It's above and beyond, but it's realistic enough. They tell you why he (Roscoe Jenkins, played by Martin Lawrence) becomes the way he is. He was never the successful one or the winner. That's why he went away (from home).It's hilarious,the characters and the comedians.
Was the story believable?
Yes, it was very believable. I think really it was woven perfectly.The storyline,I thought, "OK, how funny is this going to be?" But each comedian had something that stood out, and I just thought "Wow, that was a funny show. It wasn't corny, it was funny. It wasn't overkill, it was just right."His (Roscoe Jenkins) fiancée, she plays the ultimate, well, she's just irritating.We walked out of there and we absolutely loved it. It really is a story that incorporates real-life things, like how you are raised by your family.They just do it in a way that's funny.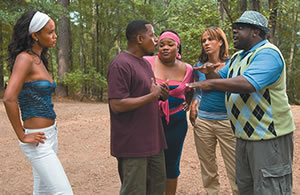 What was the funniest part of this movie?
A lot of it was funny, a lot of great parts. They go though an obstacle course, and I just think it's extremely hilarious how competitive they get. When they (Roscoe and his fiancée and Roscoe's family) first meet each other, there's so much competition between him and his cousin, every time you see them getting together you're constantly laughing.
There were a few famous comedians in the cast (Cedric The Entertainer, Monique and Lawrence). Did they do a good job acting and being funny? How would you rate the acting?
Monique is hilarious; she is just so out there, it's funny. She is blunt and honest as the sister, and is such an instigator. There's one scene where she just beats the crap out of him. That's what made it, when you have that many comedians in there. It was so well-written; it was beautifully orchestrated. You kept laughing through the program. The cousin, I thought he was really outstanding, almost to the point where he could have stolen the show. He plays the real sleazy cousin.
Considering the storyline, was there an overall message of the movie, not just for the characters in it, but for the viewer to take home as well?
You really do take away the fact that he is the person he is today because of the way he was raised by his family. He lost the sense of family because he was away from it. You are who you are because of your family, whether it's good or bad. He realizes that in the end. It's a great message with a lot of laughing.
On a scale of one to four stars, what would you rate this movie?
★★★★.
To whom would you recommend this movie?
Everyone who sees it will walk out of there feeling just great. It's definitely PG-13. My 16-year-old loved it, my 11-year old would love it, but I'm not sure he would see it just yet. If you love Martin Lawrence, you'll love this.
Favorite movie snack?
We always get our standard: popcorn, mochi crunch, Red Vines and Raisinets. Love it.
What's new?
As always, busy-crazy. I'm in the process of planning the Perry and Price 25th anniversary show, coming up in August.We're working on that.We're taking our show to Vegas in March,we always do that. I've been really busy. I'm doing "Quick Easy Eats"on KGMB 9,the Sunrise show once a month. It's sponsored by Kraft. I'm the spokesperson for Kraft Foods Hawaii. I do all their radio commercials, print ads,TV commercials and "Easy Eats." I go around and do events that Kraft sponsors. I just did a 4H Youth event in Pearl City.The kids used Kraft products in the foods they made.
Next week: a new movie, a new celebrity
Most Recent Comment(s):