Wednesday - February 10, 2010
By
.(JavaScript must be enabled to view this email address)

Movies Showtimes
Share

Alana Paulo-Tamashiro
Where and with whom did you see the film?
I saw it at Ward with my boyfriend, Jarret.
Overall, what did you think?
I like romantic comedies, so it was really good in that aspect. It was really funny. It was just cute and funny with all the things that were happening to Beth (Kristen Bell).
On a scale of one to four stars,what would you rate this movie?
One to four? Can we do half points? (Laughs) I'd say about ★★ 1/2 or ★★★ because I would definitely say that it was really funny, but then I think I've seen other romantic comedies that were better all around. I also didn't really think that any of the actors were really prominent names in Hollywood except for Danny DeVito.
How was the acting? Did anyone stand out?
I thought that the guy (Will Arnett) who was supposed to be Italian - but then ends up being from the States - was just really funny through the whole movie. He stood out a lot.And that guy Nick (Josh Duhamel), too. He was cute!
What about the soundtrack? Did it contribute significantly to the film?
I actually took notice at the end when Beth finds out Nick wasn't under the spell,but throughout the movie it just kind of blended into the background.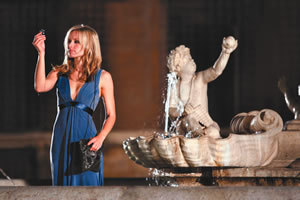 Without giving away the ending, what was one of your favorite scenes and why?
I like the part where the Italian guy,Antonio, was chasing her down the street and ran into the horse and carriage.That was hilarious!
To whom would you recommend this movie?
I have quite a few friends and coworkers who were interested in seeing it, so I'd pass it on to them as well as family. I just think that, all in all, it was kind of inspirational, especially if you're not with somebody. It gives you hope that you can find love.
On a different beat, what's new with you?
I have two programs I'm involved in, peer-to-peer mentoring programs that I'm very passionate about. One is called Studdee Buddee, where you pair students up based on their abilities (an athlete with an artist, etc.) so that they learn and grow from each other.I've found that it eliminates peer pressure, and that new friendships are created more readily. It just increases the educational excellence that we're trying to achieve in our schools nowadays.And the other one is called Star Kids, which is a program devoted to underprivileged, terminally ill and disabled kids to whom we give the opportunity to become a king or queen for the day and experience how it feels to be in the spot-light.Volunteers such as myself sell "star bears," which allow one to register a real star in the sky. Proceeds from the sale of these bears allow a volunteer to give a bear to the child, and the remainder of the proceeds is given to Children's Miracle Network. You can find out more about both of these programs at www.toplevelhawaii.com/Clients/Alana/.
Most Recent Comment(s):