Wednesday - October 28, 2009
By
.(JavaScript must be enabled to view this email address)

Movies Showtimes
Share

Jeff Langcaon
Children's book author and Illustrator
Where and with whom did you see the film?
I went to Ward Theaters with my wife Dew-Anne.
Overall, what did you think?
I tried to go in without a lot of expectations and I kind of liked it, but I didn't think it was a kid movie at all. It was a very complicated movie and I think it's got more to it than the book intended it to have. It almost seems like a movie about a childhood, and it has very complex themes.The monsters bicker and complain to each other and exhibit different parts of Max's personality. It's kind of a re-enactment of Max's real life,just set in a different world.
It was just a very grown-up film.
What did you think about the cinematography?
The cinematography was what worked so well.Once you get used to seeing them (the monsters) like that,then they're very believable. They look just like the creatures in the book. They're very impressive.
What about the acting? Did anyone stand out?
The boy who plays Max (Max Records) is very good. In fact, the effects for the monsters were very impressive as well. The close-ups of their faces show all these details,right down to the individual hairs on their noses. Very impressive.
On a scale of one to four stars, what would you rate this movie?
I would probably give it about ★★. It's just not an easy movie. If you're in the mood for something like this, something very grown up, then it's fine. If you let yourself go into the experience of it all, then it works. But if you know the source material and have expectations, then it's a bit off.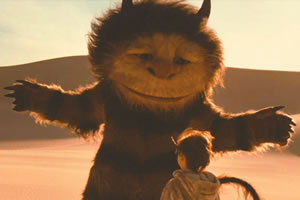 How do you think the audience received the film?
I sat near a family who brought their kids and the kids got very restless during the film. There were people who actually applauded at the end, but on the other hand, the kids, the target audience, weren't impressed.
Let's set aside expectations and take the movie at face value. How was it from that point of view?
It's hard to go into these movies without expectations. I liked it, though, if I step outside of that.My wife and I went to dinner afterwards and I told her that you kind of have to piece together what's missing and it's not a passive-experience type of movie. It's for people to get involved in.
To whom would you recommend this movie?
I have a hard time recommending it to people.I have a hard time just explaining it (laughs).
It's almost like an art film. It's not an easy, wash-over-you film. I think the people who would enjoy it the most are people who are willing to open themselves up completely. I wouldn't recommend it for kids at all ... maybe teenagers. The director kind of grew the film up too much.
Do you think the movie was worth the ticket price?
For the right people, the price is right.
So, what's new with you?
I've just been doing some graphic art stuff here and there, and I've also been working for PBS Hawaii doing their Web site for them. We have a Twitter account too, so check that out.
Most Recent Comment(s):