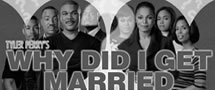 Wednesday - October 24, 2007
By Kerry Miller

Movies Showtimes
Share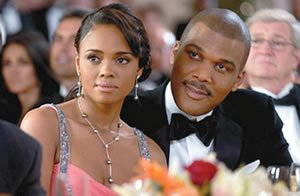 Where and with whom did you see the movie?
I saw it at the Regal in Windward Mall. I went with my husband.
Overall, what did you think of the movie?
I really liked it. I thought it was a really good movie. It touched on a lot of different topics that could come up in marriages.It wasn't like they were acting, it all seemed so natural.It was really relatable.
Was the movie predictable?
Not really. I went in knowing that there were going to be topics about problems in marriages, it wasn't predictable about what they were going to cover.
What was your favorite scene?
The dinner scene (she laughs). That's all I'm going to say.That's when everything comes together, you just see it all.
Who was your favorite character?
Angie, because she was "no holds barred - I tell you the truth and I'm just going to get it out there." Everybody needs a person like that in their life. She brought a lot of comic relief,but just made it real,kept it going.
How would you rate the acting overall? Specifically,Tyler Perry - have you seen his other movies? And if so, how does the acting compare?
I would give it like a 10 out of 10. I felt like I was honestly watching a real life group of friends.Two scenes, one with Janet Jackson and Jill Scott, they could get academy awards for their emotions. I've seen bits and pieces (of Tyler Perry's other movies), but haven't seen them in full.In my understanding it (Why Did I Get Married?) was a complete 180 from his normal work. He has parts of his typical style in it. It's serious, but there are quite a few areas where you'll laugh a lot. It's drama first, comedy second.
Would you recommend this film for others to see?
Yes. Probably for couples who are married or have been together for quite a few years. It touched on so many different issues in a relationship you can really see yourself in something. It makes you kind of think, "oh we're going through that or we went through that." It kinds of helps you to realize what is going on and how to help it.
In a four star rating, with four being the highest, what would you rate it?
Definitely . ****
What's your favorite movie snack?
Always gotta have popcorn and mochi crunch (she laughs).
Favorite actor/ actress?
John Malkovich and John Travolta.
What's new?
We're actually trying to expand the business right now. A lot of people in the public think that we're just weddings, and we're not.We do flowers, coordinate for any occasion. We can do proms, graduation, retirements, birthdays, luaus, whatever. Our goal is to re-brand our image. We're a one-stop shop for not just weddings.
Most Recent Comment(s):