Wednesday - July 19, 2006
By
.(JavaScript must be enabled to view this email address)

Movies Showtimes
Share
You, Me and Dupree
Movie Review with Tanna Dang
Owner, The Wedding Cafe
As Told To Melissa Moniz
Where and with whom did you see the movie?
We saw the movie at Dole,and I went with my sister and my cousin.
Overall what did you think of the movie?
I thought the movie was fantastic. It was funny, it was quirky,it was romantic all at the same time. It was really, really good.
Did you see previews before going to see the movie and know what to expect?
Yes I saw lots of previews on TV before seeing this movie. So I really knew what to expect.Plus I'm a big fan of Kate Hudson,so I was so happy to see this movie.
Did it meet your expectations?
Definitely.It met them and exceeded them. It was really funny.It was hilarious,and it was so loving and genuine all at the same time. You could relate to so many parts of the movie.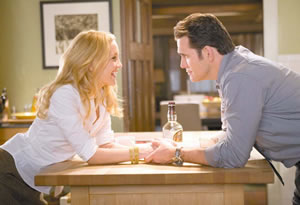 So the main plot of the movie is basically that this recently married couple's life is bombarded with the groom's friend, Dupree. So what's the major conflict in the movie?
Well the major conflict is really about relationships.It's how this newlywed couple is dealing with all these events that are going on in their life. And these events are caused by Dupree,who is the groom's best man.It becomes Matt Dillon's choice to what's his priority. Is it his new wife? Is it his best friend? Is it his family? And so he keeps making "the wrong choices," and that's what keeps getting them into trouble over and over again.It's just testing their marriage,and at the end it's just great. It's just a test of relationships,and it's just so neat how they put it because it's so true.
As a newlywed yourself, could you relate to a lot of what went on in the movie?
Yes, yes, yes, yes. I could definitely relate to it.Through the whole movie there were so many parts where my sister and I would just poke each other and be like "that's me." Definitely I could relate to it.
So did the movie include their actual wedding?
It did show the actual wedding, but didn't show a lot of it. It was more the ending part when they kiss and walk out.It was really pretty, and you could tell it was in Hawaii too.
To whom would you recommend this movie?
Everybody who loves those chick flick,romantic comedies would really love this movie. Definitely to brides,to newlyweds and to anyone who has been in a relationship.It's a great movie that best describes what marriage is, I guess,and how it works.The things that come into your life and the balance. The way they portrayed it was just classic.We just laughed the entire time.
I read in an interview with Kate Hudson about this movie that she felt she was half-naked for the entire movie. Did you notice that?
You know what,I also read something like that too, but I didn't really think so. I mean,because they were a married couple,there were times that they were getting ready for bed, but it wasn't revealing in the sense of sexy revealing. It was just real, like lounge wear. So I wouldn't say it was anything provocative at all.
In a four star rating, with four being the highest, what would you rate it?
Oh, I would rate it a 10. It was better than four stars .
What's your favorite movie snack?
Popcorn and mochi crunch.
What's your favorite movie of all time?
It would probably be Serendipity.
Who's your favorite movie buddy?
It would have to be my husband,Bryson.
What's new?
There's so many new things. On the wedding side we have a wedding workshop kicking off in August.It's a 14-week series of different events. We have hair and make-up tips,we have cake and wine sampling,trunk shows.Basically it's everything you need to plan your wedding in 14 weeks.We also have Sunday afternoon tea, which we started this year.We have it the first Sunday of every month.That's open to everyone, where you can come in and have a three-tier menu.It's amazing, my sister and Bryson put it together. You select the tea, there's salmon ceviche,lavosh,there's Greek wraps,plus we have our famous pumpkin crunch in there too. And all this information is available online at theweddingcafe.net. So we're doing a lot of showers,a lot of parties all year round.So it's exciting because weddings are always happening as long as people are falling in love.
Next week: a new movie, a new celebrity
Most Recent Comment(s):